ERP set to simplify Indian Railways' rolling stock management
Officially started in December 2009, the SAP based ERP project will power Indian Railways' rolling stock management. Pilot in 2011, rollout by 2013.
The IT arm of Indian Railways - Center for Railway Information System (CRIS) – has recently decided to implement ERP to manage its rolling stocks. Under this project, L&T Infotech will be the deploying system integrator for CRIS. SAP based applications will be used for this project.

Revealing the project's phase-wise plan, a top CRIS official told SearchCIO.in (on condition of anonymity) that the project officially started from December 2, 2009. CRIS plans to do the pilot project in May 2011. After the pilot project, CRIS estimates that the final rollout across India will be complete by May 2013.

Under this project, L&T Infotech will deploy ERP software and the underlying hardware to automate maintenance of Indian Railways' rolling assets (wagon fleet which carry freight traffic, as well as the diesel locomotives which haul freight and passenger trains). Rolling stocks, through which Indian Railways sells its passenger services and freight services, are among its major assets. Management of these rolling stocks and governing of assets is still performed manually.

At the moment, Indian Railways has applications for front end systems like passenger reservations and freight operations. However, it is necessary to have visibility of goods and wagons, so that operators and customers can locate their goods and carriers. "Almost one fourth of Indian Railways' expenditure (approximately Rs 10,000 Crore) goes towards material procurement for rolling stocks and its maintenance. So it's a very capital intensive area. The challenge was to determine whether we can get more revenue and service out of this business," says the official.

Download this free guide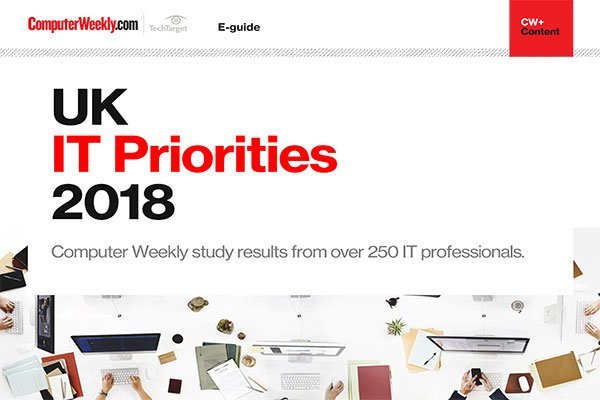 2018 UK IT Priorities survey results
IT organisations in the UK and across Europe are starting to accelerate the move to the cloud. Read more about the key areas in which senior IT managers are planning to invest in over the next 12 months.
Convincing the top authorities was a challenge for CRIS, as the project was under wraps for the past three years. The rollout phase is still to get a nod from the government authorities.


,


Execution of these projects will involve creation of two centralized ERP-based applications. The first application will be freight maintenance management (FMM) for management of freight and wagon depots. Loco-Shed Management System (LMS) for management of diesel locomotive sheds will be the second application.

These projects include installation and commissioning; along with multi-year ongoing support of hardware and systems. The work involves establishing central data center infrastructure; providing LAN and supply; as well as installation and commissioning of hardware and networking equipment. L&T Infotech will also be installing servers, network equipment, closed circuit camera systems, touch screens and RFID-based kiosks to provide an easy user interface for Railways' employees.

CRIS wanted a short implementation period, which brought ERP-based applications into the picture. As per the source, "One of the reasons why we went ahead with ERP is its ability to integrate with existing systems". These ERP-based applications, along with sophisticated IT automation tools and integration with Railways' freight operations information system, are anticipated to be a major breakthrough. CRIS expects this project to be an important milestone in improving internal efficiency and quality of work in Indian Railways' maintenance depots.

Convincing the top authorities was a challenge for CRIS, as the project was under wraps for the past three years. The rollout phase is still to get a nod from the government authorities. According to the information received, the pilot project will cost around Rs 7 Crore. Across India, the expected FMM project expenditure will be around 90 Crore, with an expected rollout period of three years. The LMS project will cost around Rs 50 Crore, and take around two years for the roll out. CRIS is also undertaking similar projects for Railways' Integral Coach Factory and coach maintenance.
Read more on IT suppliers