Remote working cushions financial blow of snow storms
One in five people were unable to get to work because of heavy snowfall last week, but it was business as usual for staff who could log...
One in five people were unable to get to work because of heavy snowfall last week, but it was business as usual for staff who could log in to corporate systems remotely.

Download this free guide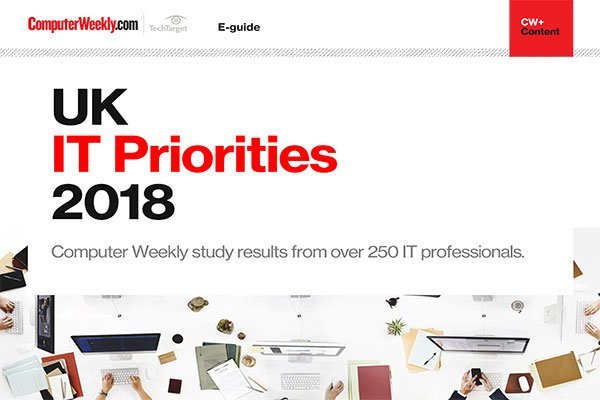 2018 UK IT Priorities survey results
IT organisations in the UK and across Europe are starting to accelerate the move to the cloud. Read more about the key areas in which senior IT managers are planning to invest in over the next 12 months.
Small businesses ill equipped
Business continuity in action
VPN access on demand
Breaking down barriers to remote working
Why business continuity plans fail
Remote working enablers
Useful links
Phil Flaxton, chief executive of non-profit organisation Work Wise UK says more enlightened employers already allow their staff to work smarter, enabling them to work flexibly from home.
The 2007 floods made many more UK businesses aware of the need to plan for restricted access to offices, leading them to better equip themselves for future incidents.
But these tend to be large companies with large resources that represent only 20% of the UK economy.
Small businesses ill equipped
The majority of small and medium-sized businesses are still not sufficiently prepared, says Russell Price, chairman of the Continuity Forum.
Only half of small businesses affected by the snow storms in Essex were able to benefit from home working, according to a survey by Shadowfax Technology.
Business continuity in action
Sutton-based Reed Business Information (RBI), publisher of Computer Weekly, has made remote working part of its business continuity plan.
When the snow hit, 500 employees were able to log into corporate systems and work remotely using a secured virtual private network (VPN) connection, says Dan Olley, IS director at RBI.
"The ability to flex our VPN capacity on demand was introduced two years ago as part of our business continuity strategy," he says.
Staff were able toaccess the company's Microsoft Exchange-based e-mail viathe web.The companysupported over 700 users at the peak of demand on the first day of snow-related disruption.
Another key part of RBI's strategy is softwareasaservice and cloud-based infrastructure, using tools such asSalesforce.com and Google Apps.
The strategy adopted by some firms of moving staff to a designated disaster recover site is flawed, says Olley,as most disaster scenarios are likely to knock out transport networks.
"Having key staff in a position that they can work remotely if required provides a more efficient and flexible continuity strategy," he says.
VPN access on demand
The ability to increase VPN access on demand is a good strategy because it is secure and gives companies control over the resources users can access.
Without VPN on demand, companies may be tempted to allow staff to use unprotected network connections in a crisis, which opens up the opportunities for hackers and fraudsters, says Andrew Moloney, EMEA marketing director at RSA, the security division of EMC.
One company admitted to Computer Weekly that it did not have enough Citrix licenses to allow all its snowbound employees to use VPN links.
The IT infrastructure needed to support secure VPN access is often complex and expensive, putting it out of the reach of many smaller businesses, which typically rely on a small number of key staff.
Breaking down barriers to remote working
But remote access on demand and other web-based services are rapidly lowering the technical and cost barriers to remote working, so why are so few small businesses tapping into these resources?
According to the UK's Federation of Small Businesses (FSB), business owners are not aware of the online resources,such as Google Apps, that can provide staff outside the office with secure, low-cost access to work tools.
The FSB says it is looking into ways of educating business owners on how to take advantage of this technology.
Wireless technology has improved the workforce's capacity to work from anywhere and limited the economic impact of the snow storms, but a lot more needs to be done to help smaller businesses get those benefits at a price they can afford.
Why business continuity plans fail
Plans tend to be too focused on IT systems
Not enough emphasis on people
Few plans include remote working
Plans often overlook common threats such as bad weather
The focus is on long-term disruption
Remote working enablers
Broadband internet connection
Virtual private networks (VPN)
Outlook web access
Web-based productivity applications
Web-based virtual switchboards
Social networking sites
Web-based video- and audio-conferencing
Useful links:
Read more on IT for small and medium-sized enterprises (SME)