SMB SaaS sales robust, but holdouts remain
Are SMBs really that into Software as a Service (SaaS), or are vendors and analysts pushing it when they say SaaS is taking the market by storm?
A new report out earlier this month finds that small and medium-sized businesses are diving deep into the Software as a Service (SaaS) market. But on its heels is a report from another major research firm suggesting that SMBs may be kicking the tires, but they're not buying.
SMBs are control freaks. That's their lifeline and they don't want someone else messing up their data.
James Browning
vice president and research directorGartner Inc.
So which is it? Boom or bust? It really depends on which side of the fence you're standing, said experts. It's a delivery model that has everything to lure SMBs -- easy installation, low cost. But some SMBs say they still have issues with security and flexibility.

According to Saugatuck Technology Inc., a Westport, Conn.-based research firm, the percentage of businesses with one or more SaaS applications in place increased from 11% in 2006 to 26% in 2007. Growth among SMBs, defined as businesses with less than $1 billion in revenue, was even more dramatic: SMB adoption rose from 9% in 2006 to 27% in 2007.

Download this free guide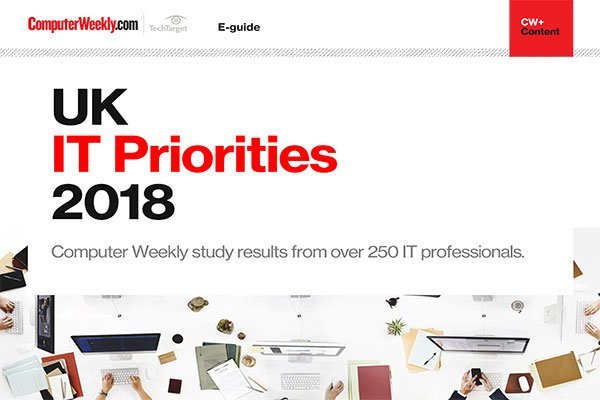 2018 UK IT Priorities survey results
IT organisations in the UK and across Europe are starting to accelerate the move to the cloud. Read more about the key areas in which senior IT managers are planning to invest in over the next 12 months.

William McNee, founder and CEO of Saugatuck, said SaaS, a subscription-based, online software delivery model, is moving beyond adoption by line-of-business managers as IT organizations start investing in SaaS products with higher levels of customization, collaboration and personalized workflow.

"SaaS will be moving from the edges of the business portfolio to the core over time, and increasingly it will move into mission-critical business service functionality," McNee said. "We are forecasting that by 2011, a good 30% of all software deployed in businesses will be SaaS."

There are plenty of proponents of SaaS for SMBs, including Stamford, Conn.-based Gartner Inc., which recently published a survey on SMB 2007 IT spending plans. But the poll shows that SMBs have some doubts about SaaS.

According to Gartner, 45% of 307 U.S. SMBs said they don't trust their data to third parties such as SaaS vendors. Only 7% of SMBs strongly believed that SaaS was suitable for their organizations, and only 17% said they would consider SaaS when its adoption became more widespread.

"SMBs are control freaks," Gartner Vice President and Research Director James Browning said. "They don't like giving up control more so than large enterprises. It's just the culture. They have less applications and less data. That's their lifeline, and they don't want someone else messing up their data."

Despite his firm's findings, Browning said he is seeing SMBs "kick the tires" on SaaS applications such as online backup. But, he said, they are shying away from mission-critical applications.

Bradley Gross, vice president of Diamond Design Inc., a small diamond jewelry manufacturer in Akron, Ohio, said he prefers traditional on-premise software to SaaS.

Gross once used a SaaS ERP solution from San Mateo, Calif.-based NetSuite Inc.

"I was not happy with the performance of NetSuite when I was online using it two years ago. Maybe it's improved since then, but I didn't like the feel of it. The screen was always flickering. And when I would pull down a drop-down menu, if you didn't click what you needed right away the menu disappeared."

Gross has since switched to an enterprise resource planning (ERP) product from Everest Software Inc. in Dulles, Va. He said he prefers the level of customization he can get from an ERP vendor who focuses on SMBs, as Everest does.

Gross also said he believes on-premise software is ultimately cheaper than SaaS. He said he can expense out the initial capital investment in the software license over time as it depreciates. He estimates that once the license cost is fully depreciated, his annual expense for Everest's software will be $2,500 for maintenance, versus the $1,300 he would pay monthly to subscribe to a SaaS ERP technology.

Everest Software CEO Edwin Miller said his company has offered a SaaS version of its ERP product, but most SMB prospects prefer the on-premise software.

"It's just still early," Miller said. "These companies want it their way. They want to integrate this software. My customers are saying, 'I want my software here. I need to integrate it.'"

Despite some voices of doubt about SaaS, clearly major vendors believe there is a market to exploit. And they believe SaaS is an excellent way to reach the SMB market. Last month Symantec Corp., one of the world's largest security vendors, announced its entry into the SaaS market, with the Symantec Protection Network.

Other research firms, such as Framingham, Mass.-based IDC, have found interest in SaaS among SMBs, with 5.1% of small firms and 15.2% of medium-sized firms planning to adopt a SaaS offering this year.

"There are more laggard categories, in particular core financials and ERP. This is an area that is more laggard relative to front office applications like CRM and sales force automation," McNee said.

McNee agreed that security has been a concern for SMBs with SaaS, but he believes security concerns will fade.

"We anticipate that to change. A lot of it is just awareness and overcoming some rather rudimentary business and technology objections. At the end of the day, SaaS is as secure if not more secure than on-premise solutions."

Let us know what you think about the story; email: Shamus McGillicuddy, News Writer
Read more on IT for small and medium-sized enterprises (SME)