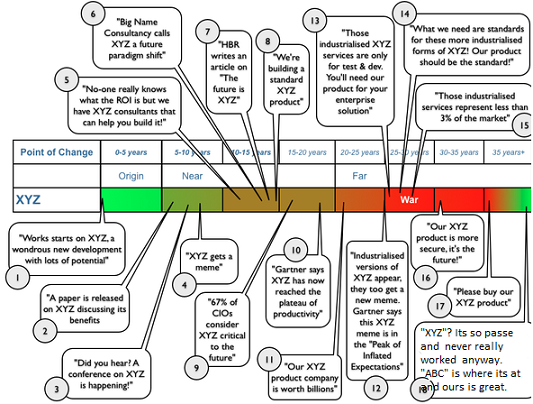 Acknowledgements to
SWardley
– although I changed item 18 to read "XYZ, its so passe and never really worked anyway. ABC is where its at – and ours is great".
I would, however, also comment on the timescale.
When my team at the NCC Microsystems Centre invented and defined the term "vapourware" (back in 1983), I had in mind a timescale of barely five years from birth to death of most "buzzword technologies".
Despite the efforts of US copyright and patent trolls to slow the pace of innovation, I think that 35 years is a bit long for the life cycle of a terminology.
P.S. I have just done some "research".
The pace of change in the early 1980s with regard to micro-computer products was unusually rapid and the life cycles of even market leaders were much shorter (e.g. the raise and fall of Visicalc ,Concurrent CPM and the Amstrad PCW) than today.
Taking a longer view, it took about a decade for the term "Agile" to replace the acronym DSDM which, in turn, had taken about a decade to replace RAD (Rapid Application development), which was a reinvention of approach behind Filetab (alias RPG, alias FPL etc.).
Filetab did indeed last 35 years before the name finally vanished from the market – with the Java version, to handle applications inter-operability within mobile phones, hidden from view.
Meanwhile Windows and Word are both approaching their 35th birthdays.
I therefore thank Mr Wardley for his insight and leave readers to ponder for themselves what determines the life cycle of the products, services, technologies (and terminologies) of today.
Is it
– entrepreneurs finding new ways to meet user needs?
– investment in research and development? public or private?
-,government supported technology (and transfer) programmes?
– corporate spend on IPR lawyers?
– ???