2013 FDM everywoman in Technology Awards: Finalists Announced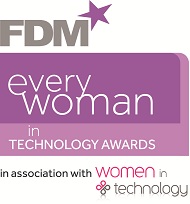 Finalists of the 2013 FDM everywoman in Technology Awards have been announced. Launched in 2011 the awards aim to raise the profile of innovative and talent women within the technology sector.
Winners selected from the shortlist below will be honoured at an awards ceremony on Tuesday 19 March at The Savoy, in London.
The finalists in the 2013 FDM everywoman in Technology Awards are:
Entrepreneur of the Year – sponsored by Alcatel-Lucent
Kathryn Parsons, Founder, Decoded from London
Jennifer Sheridan, Founder & CEO, Togeva Ltd from London
Dr Sarah Wood, COO & Founder, Unruly from London
Innovator of the Year – sponsored by The Institution of Engineering and Technology
Kate Craig-Wood, MD & Owner, Memset Ltd from Guildford
Joanne Montgomery, Founder & CEO, Little Riot from Newcastle
Liz Rice, Co-founder, Tank Top TV from London
Diana Stepner, Head of Future Technologies, Pearson from London
Inspiration of the Year – sponsored by VMware
Zoe Cunningham, Managing Director, Softwire from London
Sarah Greasley, Distinguished Engineer and Technical Director, IBM UK Ltd from London
Deborah Gundle, Founder/Director, Netbuddy from London
Siân John, Security Strategist, Symantec from London
Leader of the Year – in a corporate organisation (with over 500 employees) – sponsored by BP
Meggy Chung, Lead Infrastructure Partner, Barclays Bank from London
Lucy Dimes, Chief Executive Officer, UK & Ireland, Alcatel-Lucent from London
Jayne Showell, Senior Director, Head of Technology Operations, Capital One (Europe) Plc from Solihull
Maggie van't Hoff, General Manager Retail IT, Shell from London
Team Leader of the Year – in a SME (with under 500 employees) – sponsored by salesforce.com
Cheryl Diskin, Project Group Manager, Web Applications UK Ltd from Oldham
Dragana Ljubisavljevic, Managing Director, EMEA, Return Path from London
Tamara Lohan, Co-founder & CTO, Mr & Mrs Smith from London
Kay O'Brynne, Consulting Director, CloudSense Ltd from London
Rising Star of the Year – sponsored by Cisco
Eleni Antoniadou, Co-founder & Chief of Science, Transplants Without Donors from London
Taylor McGhee, Integrated Supply Chain Specialist Apprentice, IBM UK Ltd from Port Glasgow
Stacy Morris, UKGI Solutions Delivery – Performance Oversight, Aviva UK from Norwich
Imogen Wethered, CEO, Qudini from London
Maxine Benson co-founder of everywoman said: "Once again, the judges have identified a hugely impressive selection of women who are fulfilling their career aspirations through technology. We want to raise awareness of their achievements and fly the flag for the profession, so that future generations understand the wealth and variety of possibilities offered by technology.
"These women all wowed the judges with their gravitas and boundless enthusiasm, and we wish them the best of luck at the ceremony in March."
Sheila Flavell, chief operating officer and founder director of FDM Group said: "The FDM everywoman in Technology Awards are a fantastic platform to showcase and celebrate the efforts and successes of so many high-calibre women in such a male-dominated industry.
"We are delighted to be sponsoring the 2013 Awards and support everywoman in their determination to raise the profile of women in technology."
Maggie Berry, managing director of Women in Technology added: "We are delighted to be working with everywoman again to uncover some of the hidden female talent in the UK's technology profession through this 2013 awards programme."
WITsend wishes all of the finalists the best of luck.
Content Continues Below

Download this free guide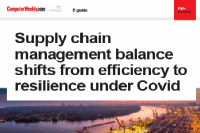 Supply chain management balance shifts from efficiency to resilience under Covid
This e-guide explores these matters, beginning with a comprehensive article that ranges over supply chain management, from a macro level through how trading platforms have been flexed to switch suppliers rapidly down to how robots have been quickly deployed to solve problems of scale.