Ubuntu One offers 20GB of free cloud storage
Ubuntu One referrals is a way to earn free cloud storage up to 20GB by "simply spreading the word" and inviting family and friends to join Ubuntu One.
NOTE: It's actually not as "simple" as it could be, but it is possible.
Users can now see a referrals invite link in their Ubuntu One web dash.
To put that in layman's terms, this is the section of the page where it says 'Get more storage free!' on the right.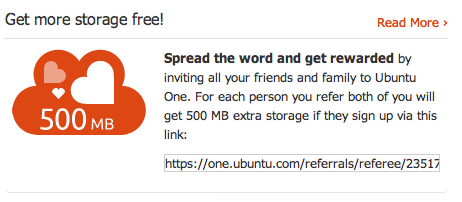 Canonical says that by sending this referrals link to friends and family via email, Twitter or Facebook, users will receive 500MB of extra free cloud storage for each person who signs up for an Ubuntu One account.
Each of those people will also get 500MB of extra free cloud storage on top of their initial free 5GB obtained when signing up.
"Ubuntu One users will be allowed a maximum of 40 invites, which could earn an extra 20GB of cloud storage at no cost," said Canonical.