The key to open source: "thousands of eyes"
Black Duck Software has this week updated the Ohloh.net online directory of open source projects, contributors and code.
Ohloh.net data has been licensed under the Creative Commons Attribution 3.0 "Unported" license.

"Visible metrics help open source project teams better manage the operations of their projects, track progress, recruit new members and share their progress with others," said Mike Milinkovich, executive director for the Eclipse Foundation.
"Black Duck's decision to open up the data in Ohloh will make it easier for open source projects to be more transparent about the success and activity of a project."
Ohloh provides a single aggregate source of information about the world's open source projects from over 5,000 repositories and forges including GitHub, SourceForge and Google Code, as well as open source foundation repositories including the Eclipse, Mozilla, Apache and Linux.
"The more, better data that is available on the thousands of open source projects today, the easier it is to identify new patterns, trends and insights on the evolution of open source itself," said Stephen O'Grady, principal analyst with RedMonk.
Thousands of eyes
"While we've partnered with Black Duck in mining Ohloh data in the past to inform our analysis, making the data more widely available will add thousands of eyes to the data, and allow for collaborative research in ways that we haven't seen before."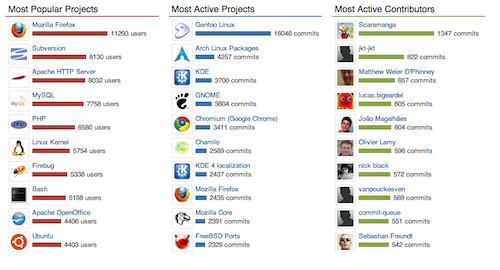 In addition, the company announced availability of a public Beta version of a new open source code search engine, Ohloh Code.