Nutanix Community Edition: democratic datacentre hyperconvergence, for free
Nutanix wants us to know it as the 'web-scale converged infrastructure' company.
What this means is… the firm has developed a hyperconverged solution intended to simplify the creation of enterprise datacenter infrastructures by integrating server and storage resources into a turnkey platform.
Basically, it makes building clouds and datacentre resources a whole lot easier.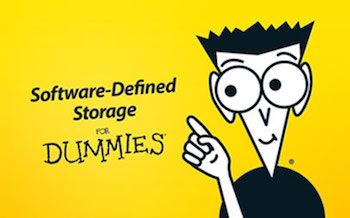 Better than VMware?
Easier than anything VMware is offering says the firm.
The new public beta of its the company's Community Edition software is meant to enable broader access to this hyperconverged technology without the need for incremental hardware investment.
You want software-defined storage? Nutanix wrote the book.
NOTE: This software is a limited-scale version of the firm's full software stack.
This technology is currently being used to power the datacentres of enterprises in more than 70 countries.
It's free, come and try
Available at no cost, Nutanix Community Edition is hoped to break down both economic and organisational barriers to adopting this enterprise computing platform for greater simplicity to IT operations.
This kind of open access eliminates cost and hardware procurement and compatibility barriers says Nutanix…
… this, in turn, enables rapid deployment into existing development/test and staging environments so users can directly experience the benefits of web-scale technologies.
Users can also tap into the NEXT online community for operational guidance and management best practices.
The free software is said to be capable of a complete hyperconverged infrastructure deployment in just 60 minutes or less.
Who uses this stuff?
· Enterprise IT Professionals and Application Developers — who can evaluate this hyperconverged technology with no licensing costs or new hardware investment.
· Technology Enthusiasts and Partners — who can now participate directly in the vibrant ecosystem for next generation of enterprise computing solutions, including the development of complementary applications, services and utilities
· Students and Academic Researchers — who will get unfettered access to distributed systems technology, and can gain a real-world understanding of how IT infrastructure can support cloud, mobile and big data applications
"From our very first software release in 2012, Nutanix has been dedicated to open architectures and technologies, offering unprecedented customer choice and flexibility," said Dheeraj Pandey, Nutanix co-founder and CEO.
"Only by eliminating the requirement for proprietary hardware and embracing off-the-shelf platforms can the next revolution of datacenter technologies be fully realised."
As a 100% software-based solution, Community Edition runs on standard x86-based servers from nearly any vendor, including Dell, HP, Cisco, Lenovo, Supermicro and others.