From MySQL to SkySQL to NewSQL
SkySQL last week signed a merger agreement with Monty Program Ab forming one of the industry's newest and perhaps most logical business agreements.
SkySQL is a provider of open source database solutions for MySQL and MariaDB users, while Monty Program is the creator or the MariaDB open source database itself.
NOTE: MariaDB is a community-developed fork of the MySQL relational database management system, which in itself is a open source Relational DataBase Management Systsem (RDBMS) formerly championed by Sun prior to Oracle days.
The companies say that they aim to now create a truly interoperable NewSQL open source database.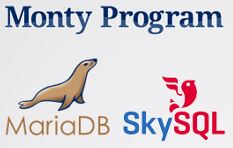 So newsql.sourceforge.net describes NewSQL as a new database access language that is "easier to learn" than SQL. It is not a extension or subset of SQL, and not an o'bject database language.
MariaDB is open source and is compatible with the MySQL database while providing new extensions and features.
It is capable of interfacing with NoSQL database systems like Cassandra and LevelDB as well as to access data in other formats thanks to pluggable storage engines.
"This allows customers to leverage the capabilities of the latest database technologies as well as access data in legacy systems without expensive and risky database migrations. This merger brings cloud and big data capabilities together, which will enable the new company to become an interface for fellow open source technology providers," said the companies, in a joint press statement.