Video: Sony Bloggie camera rivals the Flip, Nano and Zi8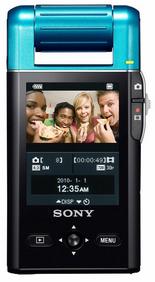 The last time I got excited about a video camera it was the Zi8 but the Bloggie blows it out of the water. Sony are traditionally brilliant at cameras ands camcorders and the Bloggie is the new prodigy that does everything and so much more.
The Sony Bloggie PM5 and CM5 can record both 1280×720/60p video and high resolution Full HD 1920×1080/30p clips. They also have SteadyShot image stabilisation that cuts camera shake when you're shooting handheld, and Face Detection fine-tunes camera settings for clear, captivating portraits.
They PM5 comes in four colours, features a rotating lens that swivels 270 degrees. It has a bright, high resolution 6.0cm LCD screen that shows camera settings in the bottom half of the display while you're recording. A nice feature is that you can turn the bloggie horizontally and view in landscape format which is a nice touch.
The PM5K also includes a special 360 Video lens adaptor that lets you record panoramic videos, something that'll get anyone excited.
brightcove.createExperiences();
Rivals and market
The Flip came out a few years ago and many, including yours truly, were sceptical about how successful it would be due to the fact that you can capture video on your phone. Safe to say I was wrong and the Flip boomed.
Apple decided to try and get a share of the market by adding video capture to their Nano range (See my review: Video: Nano video reviewed – 3 reasons why it sucks). Drawbacks of the Nano are that it doesn't have still capture and no HD BUT it is an add-on to a fantastic Nano.
Kodak followed and their latest offering, the Zi8, has HD still camera capture and a mic input. It's definately the best on the market but Sony's Bloggie looks like it might overtake it.
Key technical specifications:
Model Name

MHS-PM5/PM5K

MHS-CM5

Image Sensor

7.13mm(1/2.5 Type)
CMOS Sensor

7.13mm(1/2.5 Type)
CMOS Sensor

Gross Pixels

5.0M

5.0M

Still Image Recording

5M

5M

Lens

Sony Lens

Sony Lens

Optical Zoom

–

5x

Image Stabilization

SteadyShot
(720/30p, VGA mode only)

SteadyShot
(720/30p, VGA mode only)

Recording Media

Internal Memory (26MB),
Memory Stick PRO Duo (Mark2)

Memory Stick PRO-HG Duo

SD/SDHC Memory Card

Internal Memory (26MB),
Memory Stick PRO Duo (Mark2)

Memory Stick PRO-HG Duo

SD/SDHC Memory Card

Video Format

MPEG4 AVC/H.264 (MP4)

MPEG4 AVC/H.264 (MP4)

Video Resolution

1920 x 1080 / 30p (16:9)
1280 x 720 / 60p (16:9)
1280 x 720 / 30p (16:9)
640 x 480 / 30p (4:3)

1920 x 1080 / 30p (16:9)
1280 x 720 / 60p (16:9)
1280 x 720 / 30p (16:9)
640 x 480 / 30p (4:3)

LCD Panel Size

6.0mm / 230K

6.2mm / 230K

Face Detection

Yes

Yes

Slide Show Mode

Yes

Yes

Interface

Multi AV Composite
USB (built-in plug)

Multi AV Composite
USB (built-in plug)
HDMI Out

USB Charge

Yes

Yes

Built-in Software

PMB Portable

PMB Portable

Weight

w/o battery: 110g,
with battery: 130g

w/o battery: 175g,
with battery: 196g

Measurements

19.0 x 108.0 x 54.0 mm

39.0 x 101.4 x 67.1 mm

Supplied Battery

NP-BK1

NP-BK1