The tablet market is stronger than ever, with a 68% increase in tablet and hybrid device sales over the 2013 period.
Although Apple still remains in the top spot, there are plenty of alternatives to the ever popular iPad, including the Dell Venue 8 Pro tablet.
This 8 inch tablet, running Windows 8.1, comes with a full Microsoft Office suite of applications and is an easy to use platform upon which to experience windows 8.
The size of the tablet is small enough that it comfortably fits in one hand, with an appealing rubber-like texture on the back which makes it easy to grip. It also is very light at just under 400g, as well as its small size making it easily portable for working on-the-go such as on the tube or at home.
The usual Windows button, which would normally be located on the front of a Windows tablet, is a physical button at the side of the device, which impeded use a little, and I found it easier to use the swipe-menu feature to navigate instead.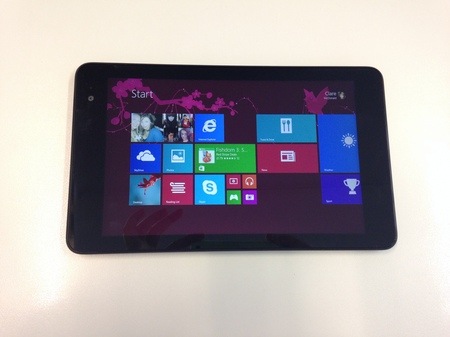 We had particular trouble using the on-screen keyboard, but there are a number of different accessories available to make this tablet easier to use when out and about, including a wireless keyboard, stylus and a tablet cover that doubles up as a stand, but it will cost you extra.
The display, which is HD 800p, is vibrantly coloured and good for watching videos or looking at documents and presentations, and with the full Office suite available all of your work is at your fingertips.
Although the battery life lasts all day when in use, it seemed to run down just as quickly when on standby, and I would have expected it to last longer.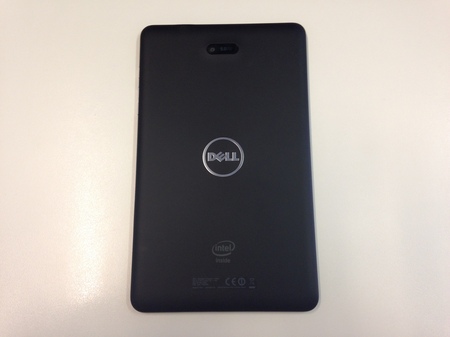 The processor is quite powerful considering the tablet's size, with an Intel Atom Z3740D Processor, so the apps load quickly. The dual-band Wi-Fi also ensures that web pages load quickly, although it can only be used where there are Wi-Fi hotspots or a reliable connection as the device has no SIM capabilities.
The tablet also features wireless display technology, allowing videos, photos or presentations to be streamed from your tablet to the nearest compatible TV using a Miracast secure direct connection.
Specs at a glance:
Dell Venue 8 Pro
Display: 8 inch HD 800p

OS: Windows 8.1

Camera: Front 1.2 MP, Rear 5 MP

Hard Drive: 32GB/64GB eMMC Hard Drive

Memory: 2GB Single Channel DDR3L-RS 1600MHz

Processor: Intel Atom Processor Z3740D (2MB Cache, up to 1.8GHz Quad-Core)
As far as small affordable tablets go, this is definitely one of the best for getting work done on a commute. The review unit was supplied to us by Ebuyer, where you can currently buy the Dell Venue Tablet Pro for £239.99.