Huddle partners with Tibbr to provide micro blogging for the enterprise
Huddle and Tibbr have announced a strategic partnership to connect customers with each company's innovative cloud and social solutions.
This partnership will allow Huddle users to use Tibbr's social platform to connect, share and manage their content in the cloud, from within the Huddle environment. Tibbr customers will be able to attach Huddle files to their updates for information and feedback, while remaining in the Huddle cloud.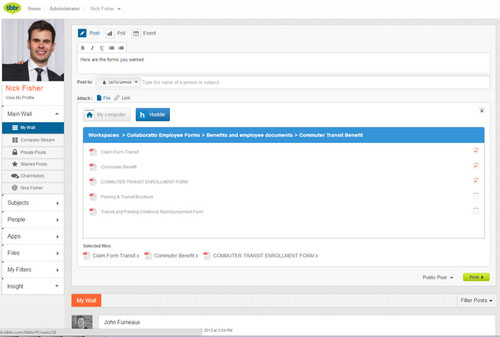 Companies now realise they need apps – files for content and an interface which is connected to major file systems. "Users are demanding a seamless experience," said Alastair Mitchell, CEO, Huddle, and they are looking towards cloud solutions such as Huddle, Box and Google Drive.
Customers are also looking for social platforms to compliment their cloud offerings.
Mitchell said existing users of Huddle were asking the company to recommend a social platform, and Huddle was unofficially recommending Tibbr.
Now, new and existing customers of Huddle and Tibbr will be recommended the other platform and be given a free trial.
Mitchell said that before the partnership had even launched, Huddle managed to secure a major deal with a US federal agency, which has now moved entirely into the cloud.
"These are multimillion pound deals," he said.
He said that companies are saying 'we're moving people into the cloud' but not completely committing, "Now they're moving ten thousand people into the cloud."
Tibbr had previously had a partnership with Box, and has now chosen to partner with Huddle for content collaboration. "This repositions our position in the market," said Mitchell. "And it shows are we are delivering solutions to larger and larger organisations."
Tibbr was launched by TIBCO the enterprise software company in 2011 as a social media system for the workplace which potentially allows a company to reduce and remove email.