British Airways deploys Panasonic Toughpads to help turnaround time for flights
I was invited to take a flight to the Isle of Man with BA Cityflyer to see a demonstration of the Panasonic Toughpad, which is used for flights from London City Airport to keep tabs on flight data.
As our plane landed, a transfer of several paper documents occurred – one of the things this new innovation is working to reduce.
The Toughpad is essentially a more practical upgrade from the previous Panasonic Toughbook, and is used in combination with Electronic Technical Log (ETL) software from NVable to record and sign off flight and maintenance information.
The airline wanted something durable and practical. There can be no room for error of any kind during flights, especially hardware failure. The Toughpad meets these criteria, as not a single Toughbook or Toughpad device has been returned for repair in the years that BA has been using them. It also has better battery life and is 50% lighter than the Toughbook.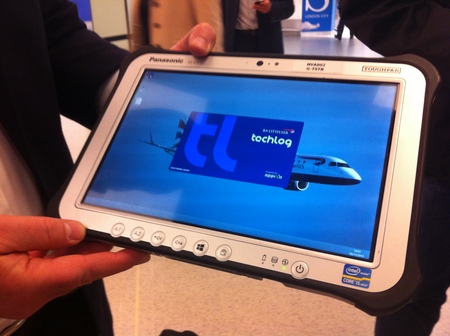 Dave Cooper, line maintenance manager for BA CityFlyer, explained that there are mandatory documents that must be signed for every flight so that all of the people involved in the flight process know how many times an aircraft has flown and when checks need to occur.
The Toughpad and NVable ETL software allow this information to be entered via the tablet and immediately transmitted to the BA Cityflyer maintenance system so that engineers and flight crew can access the information. The quick availability of data has contributed to reduced turnaround times for flights, and also cuts down on mistakes made when information is transcribed from paper into digital systems.
When showing me the system, he pointed out the maintenance list for the plane we were on. Some of the items on the list had a bright yellow exclamation mark next to them – not the most comforting sight to see when in the air. He assured me that it just meant the plane would need examinations carried out later that day, information that had already been transmitted to the maintenance system.
Once we were safely back at City Airport, I asked the pilot Klaus Egge how the Toughpad had improved the data recording process. He admitted that the Toughpad method reduced human error, and that using the Toughpad in the cockpit is much more convenient than paper or the previous Toughbook.
He said that automatic functions, such as warning when inspections are due, are a great benefit of the new system. "In the past we'll have to check that manually by paper," he said. "It will be more accurate which is probably more important, the most beneficial part is that it will take away mistakes."