Closing the IT skills gap: Translating military skills into civilian roles
Recently I have been having more and more conversations on the idea of encouraging ex-military personnel into the IT sector.
Those who have been in the forces have an array of skills that can be transferred into civilian career opportunities – it's ensuring that someone is there to bridge that gap and to help with the transition part.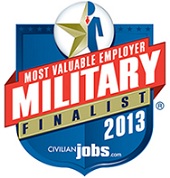 Speaking with IT service provider FDM Group this morning, I realised the amount of work that some companies are proud to put in to ensure that these skills are translated into the civilian workplace.
FDM runs a Veteran's Programme, in the US, which focuses on transitioning veterans into professional IT consultants.
The company offers 17 weeks training at its New York based academy, and two years employment with FDM once fully qualified.
Monica Hogan, US marketing assistant for FDM, told me how translating the skills and systems that ex-military candidates are experienced in can sometimes be a challenge when writing a civilian CV. Not all HR departments may understand this. She pointed out that post 911 veterans would have enlisted at the age of 18/19 and some may be choosing to leave in their early 20s – those without degrees may find themselves slipping through the gaps, when applying for civilian job roles, however being a veteran is a big selling point.
FDM's programme has been a success in the US, recruiting 20 veterans so far, with 10 more in line for this year. As a result the company has been announced as a finalist by CivilianJobs.com for the Most Valuable Employers (MVE) for Military 2013 awards. Congratulations to FDM being shortlisted.
Furthermore, today BT Openreach announced that it is reserving 200 positions for armed forces personnel. Working with the Ministry of Defence and the Careers Transition Partnership the company is on the hunt for those about to leave the forces. BT Openreach has recruited over 1,000 staff from the armed forces in the past two years.
If your business has a similar programme in place, I would love to hear about it.
To all businesses making the path clearer for ex-servicemen and women to transfer their skills into civilian IT roles, Computer Weekly salutes you.