Virgin Money wants to remove bollocks from finance industry
Virgin Money is not in the business of castration but is determined to use new technology to rid the finance sector of bollocks.
The challenger bank claims new technology that allows bank cards to have personal details on the back and pictures of the Sex Pistols on the front will remove the industry's bollocks. Tenuous.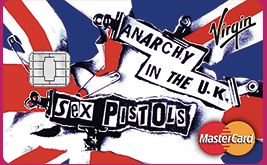 Yes 38 years after the Sex Pistols first signed for Virgin Records, Richard Branson is using the band's notoriety with new cards emblazoned with the artwork from the Pistols' 1977 album 'Never Mind the Bollocks' and the cover art of the punk rockers' seminal single 'Anarchy in the UK'.
Virgin Money chief Jayne-Anne Ghadia, said: "We don't want Anarchy in banking – but we do want change. And we want to get rid of the bollocks in banking and to be simple, open, transparent and fair."
Downtime does not see the connection.
Perhaps the FCA could take a leaf out of the company's book and tell bankers: "If you step out of line again we will put your bollocks on sticks and parade them on London Bridge." If that doesn't stop misbehaviour nothing will.