The Instagram Song will cure your addiction
Ever get the feeling the world is increasingly appearing though a nostalgic sepia haze? And are the borders of your life getting more and more blurred?

Download this free guide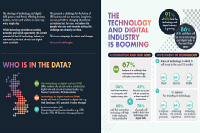 Infographic: How to future-proof UK technology
There is no doubt that the technology industry is booming right now, bringing with it exciting social and economic opportunities. However, there is a real fear that the UK industry may be stunted due to the lack of talent available. This e-guide helps to break down the future fears and expectations of dozens of business leaders and tech workers.
It's possible you have a severe case of Instagramitis.
Downtime recommends an immediate course of the Instagram Song (Put a Filter on Me), twice a day for two months.
Unless, that is you, want to share the same fate of the girl in this video who ends up in jail with a heroin-addicted prison wife all because of her over-use of the app.
But hey, in Instagram everything seems less grim!