New look Computer Weekly magazine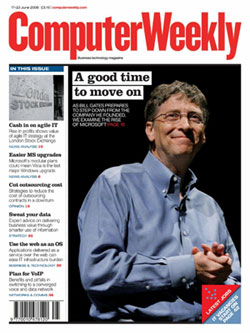 If you're a regular reader of or subscriber to Computer Weekly in print form, you'll notice a dramatic change today.
The magazine has been given an overhaul and relaunched with an attractive, fresh new look. The front cover now features an eye-catching, almost full-page, image highlighting one of the week's top articles. This week it's Bill Gates' turn, with a piece by Jack Schofield focusing on Gates' coming departure: looking back on the road ahead.
Open up the magazine and things get even better. The new page layout is pleasing to the eye, but most importantly it's also clearer, making it easier to scan through to spot the issues that matter to you.
We've also tweaked the content. There's a greater concentration on analysis of the issues behind the news, although you'll still find a round-up of the big stories towards the front, and, of course, we'll be bringing you all the latest breaking news as it happens on ComputerWeekly.com.
You'll find other new and reworked sections in the magazine too, including Radar, Manage IT and Strategy.
Editor Brian McKenna explains the philosophy behind the redesign:
We have been guided by the principle that not all news in the IT space is worth paying attention to in a weekly print format: it needs to be filtered and analysed. The new 'News of the Week' section and the news analysis pages do this. We don't aim to be comprehensive, but to select and offer informed point of view analysis. Our bedrock is, as ever, to be the champion of the corporate user agenda and of IT professionalism.
Don't have a copy? Check out the new design online in our digital edition.
And to subscribe to the new look Computer Weekly, follow this link.