CSC's UK revenues decline as it refocuses on cloud services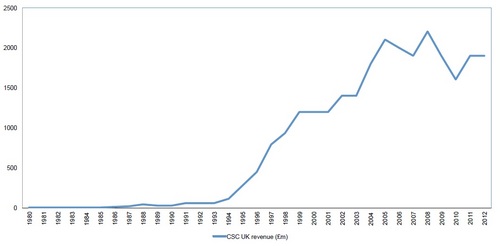 Normal
0
false
false
false
EN-US
X-NONE
X-NONE
/* Style Definitions */
table.MsoNormalTable
{mso-style-name:"Table Normal";
mso-tstyle-rowband-size:0;
mso-tstyle-colband-size:0;
mso-style-noshow:yes;
mso-style-priority:99;
mso-style-parent:"";
mso-padding-alt:0in 5.4pt 0in 5.4pt;
mso-para-margin-top:0in;
mso-para-margin-right:0in;
mso-para-margin-bottom:10.0pt;
mso-para-margin-left:0in;
line-height:115%;
mso-pagination:widow-orphan;
font-size:11.0pt;
font-family:"Calibri","sans-serif";
mso-ascii-font-family:Calibri;
mso-ascii-theme-font:minor-latin;
mso-hansi-font-family:Calibri;
mso-hansi-theme-font:minor-latin;
mso-bidi-font-family:"Times New Roman";
mso-bidi-theme-font:minor-bidi;}
Source: Securities and Exchange Commission,/Companies House/Computer Weekly
(Click on graph to enlarge)
US IT outsourcing specialist, CSC's UK business, its primary source of international sales since the 1970s, has declined steadily since 2005. Most of its major UK contracts – including the Atomic Energy Agency, Network Rail, the Post Office and UK Visas – are now approaching the end of their lives.
The company is reinventing itself as a cloud computing business. The new model will require fewer resources and generate less revenue than its traditional outsourcing business. The jury is out whether CSC will be able to grow its cloud business quickly enough to replace its traditional revenues.
For more on CSC, download our in-depth profile.