Slow down you move to fast - cutting the wait on the 59th St. bridge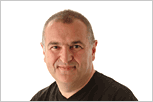 My colleague Gareth is not exactly a tree-hugger, but he is a very socially aware engineer.
As with many engineers he loves metrics and recent fuel price hikes has re-awakened his memories of the 1973 fuel 'shock'.
In his latest blog he explains how he has reduced recent petrol price increases by around 73%! It is well worth the read if the price of fuel is hurting you right now.
Now we can all be 'Feeling groovy'