Premiership Porn Show - My gob was smacked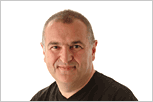 We were having a lateish evening at the Bar of the 5* Hilton here in Barcelona. Our ladies had just popped out to do the things that ladies do and my colleague was engaging me in earnest discussion regarding the objectives for our second week here.
Over his right shoulder and about 6 inches from my eye-line I could see the highlights of a Saturday Premiership game playing on the big screen. Flicker… break for advert and then… full on 'action' in every sense of the word between ladies and ladies and gentlemen.
I have to say I was a bit distracted from our conversation. A hush fell over the bar, the males and females who had been watching the game sat in stunned silence at the new game in view. My colleague was curious as to the distracted look that had crept over my face then turned his head and answered his own question.
Frantic running around at the bar and the channel changes to the one with much more clothing in shot. The flesh show had been the result of careless use of the remote. Instead of using the down arrow the opposite was selected and the result was red faces all round.
Over the years I have witnessed many off the wall moments at events, this was one of the funniest.