Pownce or Twitter: Twitter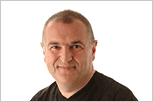 Having decided to compare these two tools I have now formed some early impressions after limited use. My view is that it is an 'apple or oranges' thing – Twitter is great for microblogging and Pownce is better for supporting closed groups of users.
Even Twitter's current occasional instabiility is counter-acted by its the large user base, extensive add-ons and external tool integration which make it more useful than Pownce's greater functionality.
For right now my answer is Twitter (you can follow me from this link).