Gordon's Digital Industry Initiative # 5 - Collaboration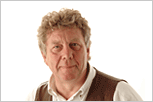 Sharing information and ideas among partners, suppliers and customers can help increase sales, create opportunities, improve customer service and decrease costs. It can also be messy – sometimes frustrating and often difficult. It can bring about concerns of security, privacy and intellectual property. It's a strategy that requires trust, the right IT infrastructure, a culture that's willing to share important data and, critically, an enterprise whose top management believes in the strategy.
The last point will be the Achilles Heel of the Government's Digital Strategy unless collaboration is seen as important a concept as 'keeping mum' was in WWII. It will be a world turned on its head but hey! we're turned turtle as it is – so what's to loose.