French Letter #2 - The most expensive WiFi in the world?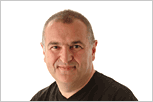 'Allo 'Allo
My NET connection is free (well my brother-in-law is providing the link) but my travelling companion is staying in a hotel where the charge for WiFi is 10€ per hour (£7.90 / $15.60).
I am not aware of a pricier connection, maybe someone out there does?
ps
As part of the use of my brother-in-law's holiday flat I volunteered to install his Orange Broadband 'Livebox' router. Wow what a heap of 'merde'.