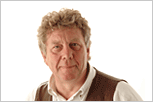 It's better," according to the Chinese proverb, "to be a dog in a peaceful time than be a man in a chaotic period." I'm a man and chaos looms on the horizon … Damn-it!
In these challenging times many organisations need to shift to more agile, virtual structures to support mobile workers to reduce travel and accomodation costs.
As IT strategists our job is to lay the foundations for integrated common communication services, through infrastructure upgrades or managed services. To support this we need multi-channel IP networks and unified communications structures to deliver our interaction and collaboration needs. P.S The dog's fast asleep.