Windows 10 Anniversary: the developer angle from //Build 2016
Exec 'veep' for Microsoft's 'Windows and Devices' Group Terry Myerson used his time at the firm's //Build 2016 conference to detail the forthcoming Windows 10 Anniversary update.
How many Windows 10 users?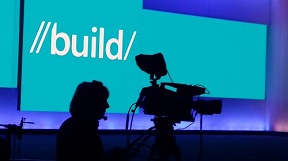 Myerson claims that there are 270 million active Windows 10 devices on the planet today — so then, the Windows 10 Anniversary Update arrives this summer, for free, to all Windows 10 customers.
Key innovations include Windows Hello, which enables users sign into a device with enterprise-grade security.
The power of the pen…
According to Myerson, more than 70% of us spend more than one hour a day using a pen.
"Windows Ink is an all-new experience, putting the power of Windows in the tip of your pen, enabling you to write on your device as you do on paper, creating sticky notes, drawing on a whiteboard and easily sharing your analogue thoughts in the digital world. Windows Ink is integrated into apps like Maps, Microsoft Edge and Office."
Announcements for developers:
Web developers — Microsoft says it has had success with Windows 10 Hosted Web Apps, driving engagement and store reviews, including American Express, BBC Sport, Yahoo Mail, zulily etc.
"But they consistently had one ask before they could make Windows 10 their primary development environment – and today, we responded, sharing that you'll be able to run native Bash on Windows," said the firm.
NOTE: Just in case you missed that then… Microsoft has now confirmed that it is bringing the Linux Bash shell command line to Windows 10 — the technology itself will be active and running as a native Ubuntu binary on a Windows subsystem.
Win32 and .Net developers — have been seeking to extend their applications with Universal Windows Platform capabilities and distribute their apps in the Windows Store.
Microsoft has now shared its new desktop app converter for Project Centennial, which will enable them to do just that.
.Net developers — have been seeking a way to share more of their code across platforms. Xamarin will help make that possible promises the firm.
"For over thirty years, Windows has been an open ecosystem, welcoming the contributions of hardware and software partners and developers around the world," said Myerson.
"Nothing changes with the Universal Windows Platform – it brings together the openness that is part of Windows' history, as well as everything that you expect from a modern application platform – like robust install, uninstall, and seamless updates. Our goal is for Windows to be the best platform for ALL developers – making Windows their home and getting the best return on their investment in their code," he added.