Polycom: visual collaboration tools should be part of every application workflow, well... almost
Polycom has just announced a new developer zone called Sandbox.
Who was that?
Oh you know, Polycom… the HD video conferencing, voice conferencing & telepresence company that likes open standards-based video collaboration and massive screens…
… and it also makes those fancy triangular 'voice-box' phone things that sit on the table.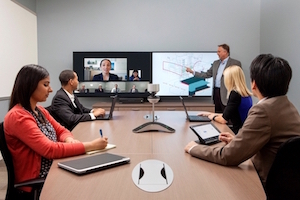 The firm is announcing the expanded support for developers to extend capabilities with the new Polycom Sandbox.
Visual collaboration tools should be part of every application workflow
This virtual lab will (promises the company) provide access to Polycom's APIs and SDKs so that developers can build applications and integrate visual collaboration directly into their workflows.
Polycom will offer a full set of support tools, including a community-based resource designed to facilitate the open exchange of information in the pursuit of innovative application development and workflow integration.
"As visual collaboration enters the hyper connected phase," said Ashan Willy, senior veep of product management & worldwide systems engineering at Polycom,
"Employees, have high expectations of being able to connect from anywhere, and from any device at any time. The RealPresence Clariti solution offers simple, easy-to-use, collaboration software that provides cloud economics, cloud deployment options, and cloud hybrid capabilities to Polycom's powerful infrastructure suite," he added.
Clariti, without the Y (d'ya see what they did there?)
The firm has also released news of Polycom RealPresence Clariti — a cloud-ready collaboration infrastructure software with support for other collaboration ecosystems and a streamlined licensing model that now includes subscription, as well as perpetual, models.
Customers will have multiple options for deploying the RealPresence Clariti solution, including on-premises, through hybrid or hosted IaaS offerings from partners, or directly in their own cloud networks.