How many developers use in-memory computing?
Big enterprise data vendors can't say enough about in-memory computing and the databases serving these new development streams right now — but how much usage goes on in the real world?
The number of developers using in-memory databases in relation to their software application development has increased 40% worldwide from 18% to 26% during the last six months, according to Evans Data's new Global Development Survey.
Hardly the gospel by which all data devotees should now observe, but a potentially worthwhile estimation of the market as it stands.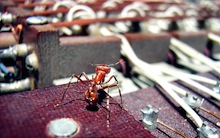 The Evans technology adoption survey encompasses the views of over 1300 developers worldwide.
An additional 39% globally say they plan to incorporate in-memory databases into their development work within the next 12 months.
Developers in North America and the Asia Pacific region show the strongest upturn in adoption…
… and the EMEA region is the slowest to adopt the technology – oh dear, but it's only a survey so don't actually worry.
"In all regions we see a strong correlation between planned or current use of in-memory databases and the perceived importance of big data in the organisation so that is obviously a strong driver" said Janel Garvin, CEO of Evans Data Corp. "But the other thing that's interesting is the equally strong correlation between in-memory database use and use or plans for development in the cloud."
So then, it appears that interest centred on in-memory computing and cloud is on the rise, but it's higher in some regions than others… and big data is also quite important.
Brilliant.