Developer cheatsheet: Getting Started With ALM
Software application development professionals love to learn and, for the most part, any opportunity to increase their skill sets is also viewed as an opportunity to increase their earning potential.
Application Lifecycle Management (ALM) company Aldon has produced a new developer cheat sheet for software architects unfamiliar with ALM to get them started.
In the new cheat sheet written by (or at least attributed to) Daniel Magid, chief technology strategist for Aldon, ALM is defined as follows:
Application Lifecycle Management encompasses the automation, control and tracking of all activity involved in delivering software solutions for resolving business challenges and taking advantage of emerging opportunities. When appropriately implemented, ALM simplifies the lives of everyone involved in the change process, improves communication, automates regulatory compliance and supports the organisation in rapidly providing high quality solutions to the highest priority business requirements.
Within, we cover everything from End-to-End ALM to Process and Deployment Automation so that you can better understand the way that you can leverage ALM to your advantage.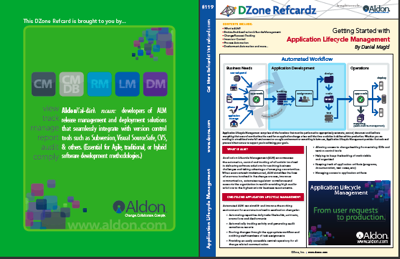 This cheat sheet is one of a number of "Refcardz" hosted by the DZone website.