Thought for the day:Merger or murder?
After the upheaval of a merger, it's easy for quality to get slaughtered. Linda Newsom-Ray offers some pointers for effective...

This Article Covers
RELATED TOPICS

Download this free guide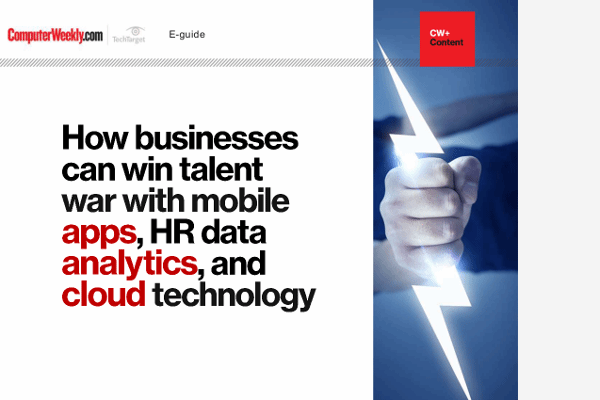 How businesses can win talent war with mobile apps, HR data analytics and cloud technology
Latest articles on HR best practices: mobile apps disrupting the annual staff appraisals; reasons for and against open-source software; and Rolls-Royce case study.
By submitting your email address, you agree to receive emails regarding relevant topic offers from TechTarget and its partners. You can withdraw your consent at any time. Contact TechTarget at 275 Grove Street, Newton, MA.
You also agree that your personal information may be transferred and processed in the United States, and that you have read and agree to the Terms of Use and the Privacy Policy.

After the upheaval of a merger, it's easy for quality to get slaughtered. Linda Newsom-Ray offers some pointers for effective initiatives.



Mergers can be murder; but many organisations manage to get away with it. On the up side, whole rafts of turgid practices can be dumped without compunction. Unfortunately there are casualties.

As an IT professional having lived through multimillion-dollar mergers between financial organisations, I've found several things in common.

Human factors have much greater impact than we realise. Suspicion and fear lead to unreasoned "political", rather than fact-based decisions. Ideas "not invented here" are dismissed and made to fail.

Large-scale system replacement projects are immediately canned because the benefits or scope are inappropriate to the new organisation. This is good news, although demotivating for the protagonists, as large-scale projects are extremely failure prone. Nevertheless, the organisation must still consider what comes next.

Quality initiatives - entire quality assurance departments - are axed, because quality is considered to be everyone's job. I've seen successful TQM, CMM and ISO initiatives hurled out faster than you can say "peer review".

Clearly, it's critical that quality assurance is pro-active and cost effective; but history demonstrates that defect-injection rates soar alarmingly when objective controls are removed. Code defects are expensive, annoying, disruptive, and sometimes, cause business failure.

Too often mergers suffer from a mismatch of cultures and processes. Typically, organisations have widely differing development and project management standards. One such example was where one half of an organisation spent around 5% of project value on a feasibility study; the other half spent 40%. Managing initiation stages across the organisation was nightmarish.

Similar difficulties arose with recognising development stages, as some were waterfall-based, some ad hoc and others performed releases, not projects. Rapid process mapping to provide a common language was the only way to overcome this.

And beware. Out of darkness cometh - more darkness. People have serious difficulties with thinking big. Small-world mentality can be hard to overcome. Facilitated creative thinking sessions are useful here.

Quality initiatives are tough in normal conditions; much harder after a merger. But you must start, otherwise you'll have a worse mess to deal with later.

Like a good raincoat, your quality initiative needs to be both practical and SMART - Specific, Measurable, Achievable, Realistic and Time-bound.

First - define "quality" - no wishy-washy statements of "fitness for purpose". You must define how quality is to be measured and demonstrably achievable. For example, project quality could be "on time, within 5% of planned duration; on budget, within 5%".

Second - harness the initiative. Results are only achieved where people want to embrace change. This will only happen if they know it will help them achieve their objectives.

Third - make sure you have the resources and the collective will of the organisation to make it happen. Provide proper tools to support the flexible processes you need, to understand the impact of change, and to control your software.

Get quality initiatives started immediately after the merger, to prove the commitment to best practice.

So, if your quality initiative isn't yet "in train", you must make sure that it has at least bought a ticket and is standing on the right platform. Or you get left behind.

What's your view?
How do you keep quality alive and kicking post-merger? >> CW360.com reserves the right to edit and publish answers on the Web site. Please state if your answer is not for publication.


Linda Newsom-Ray is senior consultant with enterprise software change management solutions company MKS
Read more on Business applications