The implications of ASP
Amid all the fuss about the announcement of Bill Gates standing down as CEO of Microsoft was a statement that should make the...
Amid all the fuss about the announcement of Bill Gates standing down as CEO of Microsoft was a statement that should make the industry stop and think

. The Seattle giant said it believes that in the future its products will be sold as services and that it will announce its strategy to make this possible in April. The assumption is that Microsoft, which has been collaborating with application service providers to develop software rental offerings, intends to move the bulk of its corporate sales to this model.

Download this free guide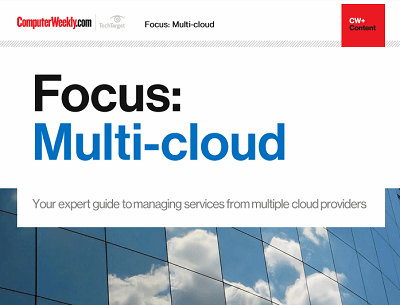 Mixing and matching your cloud options
Many IT leaders are increasingly coming round to the idea that sourcing services from one or more providers might be the best way to go. From a cost and resiliency perspective, some workloads might work better in one cloud over another. Or a certain provider might boast some functionality that suits a particular process the enterprise is looking to implement, but falls short in other areas, prompting the company to adopt a mix-and-match procurement strategy. Join us as Computer Weekly takes a closer look at the multi-cloud approach and what providers are doing to capitalise on the trend.
By submitting your personal information, you agree that TechTarget and its partners may contact you regarding relevant content, products and special offers.
You also agree that your personal information may be transferred and processed in the United States, and that you have read and agree to the Terms of Use and the Privacy Policy.
The idea that software providers will rent their applications to users over the Web is not new, but the implications, for users and the revenue models of suppliers, have not been widely discussed. It seems likely that the move will be a winner for both users and suppliers, but as always those organisations which develop a strategy to cope with the change will benefit much more from it.
For users, the financial implications are that annual licence fees based on the number of concurrent users will transform into a much fairer system. The days of negotiating with your supplier to come to an agreement on the number of licences you need will be gone, to be replaced by a monthly fee based on actual usage of the software in a similar way to the billing provided by telecoms companies. As a result, it will no longer be the case that users will be charged licence fees for software they never use.
Users will also find that they can trim the number of low-level support staff as much of that function will be taken care of by the software supplier. The IT staff who are left will be able to concentrate on more strategic issues. Finally, as far as users are concerned, the move will give them certainty in budgeting but the rental agreement will require a great deal of inspection from legal and purchasing advisers to ensure the terms are fair and do not leave them susceptible to new forms of stiffing.
For software companies, renting rather than selling will dramatically alter their revenue stream, with the effects most noticeable during the first year of the transition. Where the rental model takes off in the middle of a company's financial year, reported revenue will underreport the like-for-like sales position. This will not deter software companies from the model as they can see market share gains in being the first software product in their class to develop a rental offering, as well as lower distribution costs for their software and upgrades.
I wouldn't normally ask you to feel sorry for analysts, but disentangling the different revenue streams in financial statements will be a thankless task. Now might be the right time to ask software companies to disclose in their accounts the split between annual licence fees and monthly rentals.
Read more on IT outsourcing