Strategy Clinic: What makes a good IT manager for SMEs?
Our panel of experts answer your IT problems
I am managing director and majority owner of a small manufacturing company which has always installed IT systems in a piecemeal way. We now plan to employ an IT manager. What personal qualities and practical experience should we look for?

Download this free guide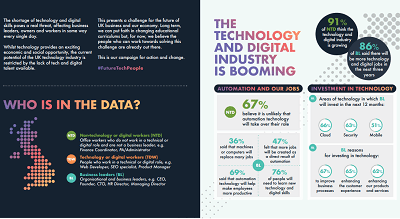 Infographic: Future-proofing UK technology
The current potential of the UK technology industry is restricted by the lack of tech and digital talent available. Read through this challenge for the future of UK business and our economy.
By submitting your personal information, you agree that TechTarget and its partners may contact you regarding relevant content, products and special offers.
You also agree that your personal information may be transferred and processed in the United States, and that you have read and agree to the Terms of Use and the Privacy Policy.
Search for someone with experience in your field
Ann Wood, general manager, ICT, BT Business

You are right to see that practical experience will be important. You should certainly look for experience in your field - such as computer-aided design and manufacturing.

It will help if candidates understand the systems you use (while remembering that these may change) and have experience in developing and implementing IT strategy and in managing suppliers.

But personal qualities will be critical, as who they are is usually more important than what they know. Candidates must do more than handle the daily issues that could easily fill their time. They must also work with you to understand your needs, formulate a strategy and work with suppliers to implement it. This will require someone with the right mindset, so look for:
A strategic view. Will they be able to see the wood for the trees? Will they be impartial?
Interpersonal skills. Will they get along with you? Will they work effectively with suppliers? Will they combine assertiveness with flexibility?
Time management skills. Will they manage time, priorities and stress?
Delivery. Will they be methodical? Will they finish what they start?
Finally, ask candidates to show how they have applied these skills before. This will be a good indicator of how they will perform for you.

The old truism, "Hire for attitude, train for skills", applies here. So consider prioritising on the qualities rather than the experience. These will drive the right approach and, for everything else, there is training.

Try to find a team player who likes small firms
Mike Hudd, technical director, Netcel

It is essential that the person you recruit is suited to the small company environment. You should look for a team player who is not afraid to work outside their formal terms of contract.

It may be tempting to employ a person with a large company background and experience, but you will need to be careful to ascertain their reasons for moving as they may quickly become unhappy in a smaller environment.

An IT manager from a large company may not have the practical knowledge required for a smaller company as they may have spent much of their time delegating work to contractors and reporting to management.

Ideally, you should look for a manager who has previously worked as a network administrator and knows how a network is put together and can get hands-on if required. I would expect a prospective candidate to be able to clearly demonstrate how they ran the network in their previous employment. This would include a portfolio of management information such as procedure and architecture documentation, management reports and action lists, budget and planning documents.

They must be able to give satisfactory answers as to how they managed the network in a proactive rather than a reactive "fire-fighting" manner. A key test is how they planned for disaster recovery and managed back-up and security issues.

Make sure that they have plenty of SME experience

Mike Lucas, regional technology manager, Compuware

You need someone who has the technical ability to deliver simple, reliable and robust systems and the creative flair to spot the opportunities to keep total cost of ownership in check.

Technical skills in telecoms, networks, systems, applications and hardware and in what you see as being required in the future are important.

This should be verified through at least two years' of experience, preferably with an SME, as opposed to a corporate environment where the level of specialisation is higher and exposure to this variety of technology may be limited.

Good communication skills are important as the IT manager will be communicating with everyone in the business on a regular basis. You may also value someone who is a little more extrovert than the typical introverted technologist.

You are looking to pass these tasks to someone else, so make it easy for yourself and ensure your new appointee can listen and seek to understand before being understood. You also need someone who is largely self-motivated and can manage their own time effectively. It is no use recruiting someone to take this burden on only to create a management headache.

Last but not least you need someone with an appreciation of what IT can do to help the business, such as reduce cost, increase revenues and improve efficiency, coupled with some manufacturing sector experience - especially which business process can or should be supported and how IT can remove complexity, cost and inefficiency.

Be sure you give them the right budget for their job

Trevor Lucas, managing director, TAL Computer Services

You are about to take a very important step and you need to think this through carefully. It is paramount that the person you choose fits in with the business and your way of working.

As you are a small business and have been doing some of the functions yourself, you need to find someone who is flexible and responds in the way that you and the business need.

You must also define what you want them to do, along with an outline of how and when. It is unlikely one person will be able to do everything, so you must decide what is important to the business and look for someone with those skills.

For example, you may want someone to develop your applications, which means they should have a qualification in programming rather than infrastructure.

A full-time person will spend many more hours on work than you were able to. That means they will need plenty of things to keep them busy and they will want to spend money to take the business and their role forward.

These requests may come at the wrong time and you need to be ready for this, so make sure you define boundaries for what they can do without having to ask and, if there is something major, that this is budgeted for.

Finally, remember that the person will want holidays and training, so they will not be around all the time.

A support company may help you achieve more

John Coulthard, director of small business, Microsoft UK

You want outcomes in your business, someone who can think long-term about IT, plan the implementation and do the detailed support work. That is a huge range of skills and one that will be hard to find in one person.

Look first for people with recognised IT qualifications and some business skills, a good communicator with useful contacts in the local IT market place.

It may be that you can achieve what you need by finding an IT service and support company to do this work. Start by drafting a detailed set of outcomes, including the main IT responsibilities, regular tasks and reports you want taken care of.

Think about the IT systems you have and what skills and knowledge would be required to run them. Identify what you need immediately and what you need to achieve over time. You can use this information to hire a person or specify a contract with a service company. I would find an IT service and support company to do this for you, as you may pay less and achieve more with your IT.

Are you an SME with an IT challenge? E-mail your question to:
computer.weekly@rbi.co.uk
Read more on Managing IT and business issues