How to be a good IT customer
Can the relationship between IT development teams and their customers be improved? It can, say Ross Hamilton, director, and Joe Morrison, managing consultant,...
Can the relationship between IT development teams and their customers be improved? It can, say Ross Hamilton, director, and Joe Morrison, managing consultant, at Lab49.

Download this free guide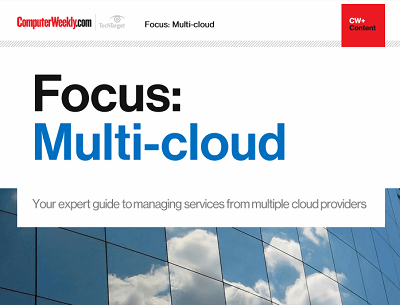 The maturity of the enterprise public cloud
Many IT leaders are increasingly coming round to the idea that sourcing services from one or more providers might be the best way to go. Join us as Computer Weekly takes a closer look at the multi-cloud approach and what providers are doing to capitalise on the trend.
By submitting your personal information, you agree that TechTarget and its partners may contact you regarding relevant content, products and special offers.
You also agree that your personal information may be transferred and processed in the United States, and that you have read and agree to the Terms of Use and the Privacy Policy.
The development team should deliver what you need when you need it, and respond to changes in demand. Why do changes of direction have such a huge impact on project delivery times and quality? Why does it sometimes seem like development teams are not responsive to business needs? Why can't they just get the job done?
Part of the problem is that financial and technology markets are continuously adapting, changing your priorities. The engineering team has to be able to respond quickly to these changes, but it should not make key design decisions behind the scenes without your input.
Software can be built to your exact specifications. But there may be benefits in you discussing innovative ways of approaching the business problem with technical experts.
You need to collaborate with the technical team and make sure they understand the nature and dynamics of your business. They can give you their insights into what the system's core or infrastructural needs should be over time. If you are not available to consult, developers may be forced to make important decisions about the scope or prioritisation of features, which may not be to your satisfaction.
Iterative development techniques can help everyone concerned by embracing changes in requirements and priorities, promoting close collaboration, providing continuous feedback and risk-management controls, and enabling the development process to be transparent.
However, even these techniques need one thing - you. It is critical for the business stakeholder to be directly engaged in the system development process.
But buyer beware. A balance needs to be struck between collaborating with your engineering team and intruding in their space. You know your business your software team knows technology. You know what you want your software team knows how to design and build a quality product. The best results come from keeping these lines clean and leveraging each other's areas of expertise.
Here are five top tips to be a better IT customer:
• Understand that change is constant.
• Be open-minded and forward-thinking, and actively collaborate with the development team.
• Focus on defining and articulating what your requirements and priorities are.
• Let the technical team define how it gets done.
• Respect each other and let the results define success.
Read more on IT outsourcing