There are a number of cartoons on the internet showing human evolution; you know - the crouching ape, the semi-upright Neanderthal, the upright human, the tool-using human, then the geek crouching over a computer.
So where on this evolutionary path is the IT department in your organisation? We're talking about their posture within the company, and we're finding that it deeply affects what IT can do in the company. It affects their relationships, their 'airtime' at an executive level, and most importantly their budget.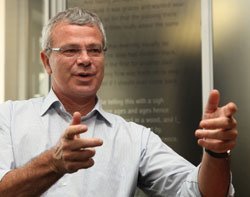 IT posture is the foundation of IT effectiveness in organisations. It is a combination of how business sees IT and of how IT people see themselves. IT posture is composed of a number of elements: typically we look at factors such as IT intensity, mandates, access to resources, skills (both in the business and IT), trust, and surprisingly 'discipline'.
IT intensity
Let's look at a few factors - IT intensity involves the slippery concept of: 'How much IT should this business use?' The answer lies in having a feel for how much IT other companies in your industry use. For example, banks have a high IT intensity, while mining companies have a low IT intensity. We are often asked by CEOs: 'How much should I be spending on IT?' The answer is of course: 'It depends'. Spend on IT is a coarse measure of IT intensity. It doesn't get to the nub of how well are you using IT, or on what business activities are you using IT.
Some executives believe that IT is about keeping the lights on, full stop. Others believe IT can provide key differentiators in their competitiveness. Which brings us to the next aspect of IT intensity: how intensely does your company use IT? Answering the IT intensity question is a step in the right direction towards ascertaining what your IT posture is.
What does the business expect from IT?
Another factor relates to the mandate for IT. This is not a formal document that finds its way into a frame on the wall and is never looked at again. The real mandate: what does your business expect of IT? There are a number of elements to this question. Your business might expect IT to shoot for the stars, but you either haven't actually told them so, or your funding of IT is at odds with your expectations, or your IT people are the wrong people to be shooting for anything. So a real mandate is understood and acted upon by both IT and the business.
Three things a CEO wants from IT
Which brings us to the skills question. There are three roles that CEOs should expect from IT:
you want IT to keep the wheels of your business turning - running the IT engine if you will
you want IT to be much more involved in your business activities
you want some leadership from IT.
Back to the evolution cartoon for a moment: even the half-upright Neanderthal would recognise that different skills are needed for each of these roles. But strangely the crouched computer geek has trouble seeing it.
As does, it must be said, the average CEO. Just look at the adverts in the paper for CIOs - 'must have Unix experience' is not a requirement for a CIO for heaven's sake. Your CIO needs business experience, with enough IT knowledge not to have the wool pulled over her eyes. So skills affect IT posture - don't ask a geek to provide leadership - they think that the latest techie fad is leadership.
The importance of trust
Stephen Covey (Jr.) wrote a book entitled The Speed of Trust. He postulates that when trust is high in organisations, the speed of decisions - and consequently of business operations - improves, and costs come down. The inverse is true where trust does not exist. And so it is for IT. If business trusts IT, they can act quicker and keep costs down. Unfortunately trust of IT remains low - there is a plethora of material supporting the contention that most businesses don't really trust their IT departments.
They suspect that IT has its own agenda, is not adding value, and is financially immature. We focus on trust in IT rather than that overworked term 'alignment', because non-alignment is a symptom rather than a cause of the trust relationship. IT may be aligned, but if it is still not trusted, then it remains ineffectual. Trust is about relationships, alignment, competence and the meeting of commitments.
Business discipline
The penultimate factor we look at is discipline. Not IT discipline necessarily, but business discipline. Our analysis of discipline in business shows that it is central to building all other factors in the IT posture equation. If the business is poorly disciplined ('We've seen this amazing silver-bullet technology, and we want it now in spite of what IT says') you undermine IT at every turn.
Many IT vendors target business people rather than IT people, because they know they are not dealing with a discerning audience when making their smoke-and-mirrors presentations to business. Make no bones about it: IT can be difficult, complex, expensive and convoluted - that's why IT architecture has become central to IT discipline. But if business chooses to ignore IT architectures and to slap any old technology on to the infrastructure, then you ultimately undermine yourself.
The final factor that we look at in IT posture is 'access to resources'. It's a chicken-and-egg thing really: if IT posture is poor, it can't expect access to business resources to give effect to its mandate. Even if IT has access to all the business resources it needs, if other IT posture factors are poor those resources wont be effectively and they lose their access over time.
Competitive resources
Let's go back to the evolution cartoon: at the start of the IT evolutionary curve would be the data processing department, which is tasked with automating and running the transactions of the company. Then next up the curve is the IS (Information Systems) department, which recognises that more than data flows through the veins of the company: information (data with a business context) helps improve business decisions and makes business operations more effective. Finally we have the business transformation step in the evolution of IT - where IT actually (and we mean actually) changes the way business is conducted.
It's interesting that we don't even have a name yet for the IT department that does more than run and manage data and information - that is a core strategic competence of the organisation. Most IT departments behave as DP departments. Some behave as IS departments and almost none behave as CT departments - 'CT' is a new term we've invented. It stands for 'competitive technology'. IT posture is the key to unlocking your company's passage towards competitive technology.
Terry White is research director of CXO Advisor
---
Sign-up to Computer Weekly to download research on the IT strategy>>
Booz&Co: Web 2.0 - lead now or get out of the way
Gartner: How to plan the size of your IT department
Gartner: The role of the IT department in mergers and acquisitions
Gartner: How to measure the business impact of outsourced services
Managing IT in an economic downturn
Case Study: How IPOS met the challenge of creating a global IT department
Accenture Technology Vision 2011
Gartner: Decide now if you will become a money-making CIO
Expert guide: How to design job roles and plan careers structures in the IT department
Email Alerts
Register now to receive ComputerWeekly.com IT-related news, guides and more, delivered to your inbox.
By submitting your personal information, you agree to receive emails regarding relevant products and special offers from TechTarget and its partners. You also agree that your personal information may be transferred and processed in the United States, and that you have read and agree to the
Terms of Use
and the
Privacy Policy
.
This was first published in April 2011