CIO Interview: Esat Sezer of Coca-Cola Enterprises
Adam Burns, senior editor at MeettheBossTV, speaks to Esat Sezer, CIO of Coca-Cola Enterprises, about the role of IT in the company's business transformation programme.
Adam Burns, senior editor at MeettheBossTV, speaks to Esat Sezer, CIO of Coca-Cola Enterprises, about the role of IT in the company's business transformation programme.

Download this free guide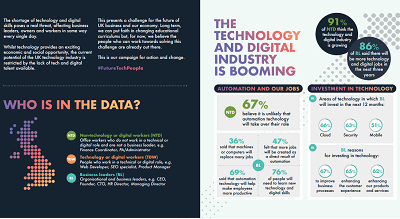 Infographic: Future-proofing UK technology
The current potential of the UK technology industry is restricted by the lack of tech and digital talent available. Read through this challenge for the future of UK business and our economy.
By submitting your personal information, you agree that TechTarget and its partners may contact you regarding relevant content, products and special offers.
You also agree that your personal information may be transferred and processed in the United States, and that you have read and agree to the Terms of Use and the Privacy Policy.
Q. How involved was the IT department in the creation of Coca-Cola's business transformation programme?
Very engaged. I should give credit for that to our senior leaders, specifically our CEO. As CIO, I have a seat in the executive leadership team. I am one of the eight direct reports of our CEO, so to get IT as an enabling capability in our transformation agenda was very top of the list for our CEO.
Q. Were you more empowered to take control of the business transformation agenda as it was rolled out?
There are several ways to look at that. First of all, having engagement of business transformation created a path for us to transform the IT as well. IT is an integral part of the business. You cannot separate the IT as a function from the overall transformation agenda.
The transformation agenda that we built within IT to enable the business transformation are two separate things that we managed in parallel. One thing that was changed in IT to enable the business transformation was our internal resources. We created a shared services centre for our financial transactional activities, we created another employee service centre for our human resources activities, and they are consolidated. They provide service to all our business units and regions. Financial activities and HR services used to be handled by the local business units and the countries in which we operate. Today they are consolidated in shared services model.
Q. You say CIOs should take advantage of the buzz around green IT to upgrade their systems and drive cost reductions. Is it really that simple?
I don't know why we need to make it more complicated than it is. As a CIO, I could relate this to the experience I had with Sarbanes-Oxley. I think many smart CIOs took advantage of the buzz around this act to drive some of the simplification efforts that they would like to make in their IT back office.
I think green IT is creating a similar kind of buzz - and rightly so. I think we could use it as an opportunity to define where corporate responsibility and sustainability is an integral part of the operating framework that we have.
In the IT space, if you look into it and drive some of the upgrade processes - virtualisation, datacentre consolidation - that reduce your carbon footprint and energy consumption, it is not a bad idea. Using green IT as a buzzword to drive print consolidation, fax consolidation and reduction of paper use is not a bad idea. It makes sense to use that buzz as a tool to drive some of those efficiency-related activities.
Q. How do you balance that drive towards cost reduction with the absolute need for innovation?
We have defined IT's value proposition in Coca-Cola Enterprises in two ways. It is a balancing act, if you will. One way is to create resources for the purpose to fund the growth related initiatives. The funding of growth-related initiatives should be shared within business and IT.
We do not want to innovate for the sake of innovation. We would like those innovative capabilities to differentiate us from our competitors. So innovation for us means differentiated capabilities. Either those capabilities would be in revenue growth management, in the selling and customer services, or in the supply chain.
Q. How are you attracting and retaining more business-savvy IT staff?
We are looking into the skill sets in development, deployment and governance areas. We bring skills in from outside and refresh our talent where it makes sense, but we also have a very focused internal people development programme.