IBM plans to put the mainframe at the heart of virtualisation. While mainframers will argue that the industry is only now starting to catch up with mainstream server virtualisation, the zEnterprise BladeCenter Extension (zBX) is the company's weapon of choice to manage heterogenous environments.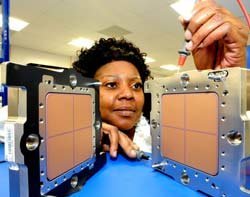 The strategy was hidden away in the company's recent z114 mainframe launch in July.
Speaking at an event yesterday, Ray Jones, vice-president of worldwide zSeries software, said the product, which is built into the microcode of the zSeries processor, enables the mainframe to manage a heterogenous environment, providing system management for virtual machines. The mainframe already uses tools such as Workload Manager to manage applications internal to the mainframe. The zEnterprise BladeCenter Extension (zBX) is designed to extend this management outside the mainframe.
It supports the open source KVM hypervisor running on IBM BladeCenter PS701 (Aix) Express blades or IBM BladeCenter HX5 7873 (PC Linux) blades.
IBM said the zBX Model 002 is configured with a zEnterprise Central Processing Complex (CPC) - either the z196 or z114. Along with providing virtualisation management on specific X and P-series blades, it provides high-performance speciality processors for specific workloads, such as the IBM Smart Analytics Optimizer for DB2 for z/OS. V1.1 (5697-AQT) or WebSphere DataPower Integration Appliance XI50 for zEnterprise (DataPower XI50z). It uses a secure high-performance private network for management functions.
The zBX is designed with integrated IBM certified components, tested and packaged together by IBM. To improve availability, hardware redundancy is built into the zBX at various levels - the power infrastructure, rack-mounted network switches, power and switch units in the BladeCenter chassis and redundant cabling for support and data connections to the zEnterprise CPC (z196 or z114).
IBM is making the application program interface for zBX available to third-party suppliers. CA Technology, for instance, has updated added functionality to CA Solve Operations Automation, which enables Linux applications to be managed as if they were System z applications, thereby reducing the need for mainframe Linux operations expertise.
IBM said zBM supports hybrid systems up to 40km apart. But Jones has plans to extend this over the next two years, making it span a global network. Moreover, the system will eventually offer what Jones calls "personality", with some level of machine intelligence - as in the Watson project. It's only a matter of time before SkyNet in Terminator becomes a reality.
Email Alerts
Register now to receive ComputerWeekly.com IT-related news, guides and more, delivered to your inbox.
By submitting your personal information, you agree to receive emails regarding relevant products and special offers from TechTarget and its partners. You also agree that your personal information may be transferred and processed in the United States, and that you have read and agree to the
Terms of Use
and the
Privacy Policy
.