PC users are being invited to take part in the search for the elusive Higgs boson, as European nuclear research centre Cern launches a cloud-based project to support its Large Hadron Collider (LHC) experiment.
Cern's Citizen Cyberscience Centre, which has previously received support from IBM and HP, has developed a new computing platform, called LHC@home2.0.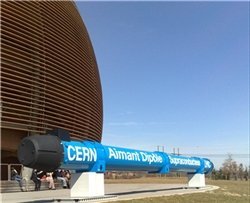 LHC@home2.0 allows volunteers around the world to run software on their home PC or laptop that simulates collisions between two beams of protons travelling at almost the speed of light in the LHC. The resulting data will be compared against real data collected from four LHC experiments.
The project makes use of idle time on volunteers' PCs, bringing them together to form a "volunteer cloud" that can then work as a "virtual supercomputer".
Boosting computing resources in developing countries
Cern is also providing low-cost technology through the virtual supercomputer for researchers in developing countries. The technology could help provide solutions for clean drinking water, as well as offering help with other humanitarian tasks in the wake of any natural disasters.
Sergio Bertolucci, director of research and scientific computing at Cern, said the benefits for developing countries are every bit as important as supporting the LHC project.
"While LHC@home is a great opportunity to encourage more public involvement in science, the biggest benefits of Citizen Cyberscience are for researchers in developing regions who have limited resources for computing and manpower. Online volunteers can boost available research resources enormously at very low cost," he said.
Professor Dave Britton of the University of Glasgow, who has previously worked on other LHC experiments, said: "Whether you're interested in finding the Higgs boson, playing a part in humanitarian aid or advancing knowledge in developing countries, this is a great project to get involved with."
The principle of using spare capacity on volunteers' home PCs is well established, through initiatives such as Seti@home, which has used internet-connected PCs to help the search for extra-terrestrial life since 1999.
Email Alerts
Register now to receive ComputerWeekly.com IT-related news, guides and more, delivered to your inbox.
By submitting your personal information, you agree to receive emails regarding relevant products and special offers from TechTarget and its partners. You also agree that your personal information may be transferred and processed in the United States, and that you have read and agree to the
Terms of Use
and the
Privacy Policy
.