Pentagon hacker Gary McKinnon has launched a legal challenge against the director of public prosecutions (DPP), claiming that he should be prosecuted in the UK for his crime of breaking into military computer systems, instead of being extradited to face charges in the US.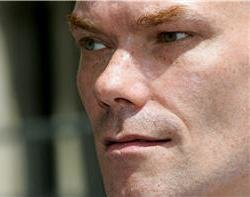 The High Court will hold a judicial review on Tuesday into the Home Office's decision. McKinnon faces 60 years in jail for allegedly disrupting US military computer networks and causing millions of dollars of damage.
McKinnon applied in May for a judicial review of the DPP's decision to disregard his autism when making its decision in February not to prosecute him in the UK.
"The director's decision is procedurally flawed and unlawful for it wrongly fails to consider and analyse important expert medical evidence concerning the effects of extradition on the claimant and his mental health," said Edward Fitzgerald and Ben Cooper, barristers for McKinnon, in the application.
Medical experts including Simon Baron-Cohen, a renowned Cambridge University autism expert, said in documents sent to the Crown Prosecution Service in December that extradition and long-term incarceration in a US jail could exacerbate his autism, leading to psychosis and even suicide. A UK trial would allow him to be brought to justice within the invaluable support network of his family.
The DPP said he could not prosecute McKinnon in the UK because it did not have the evidence on which to base the prosecution. The 2003 Extradition Act allowed the US to request McKinnon's extradition without supplying prima facie evidence.
The CPS said it could also not consider McKinnon's autism until it had considered the evidence. It approved a US prosecution because that was where the evidence was located. It gave other practical reasons for a US prosecution, but McKinnon challenged the DPP to consider also the "humanitarian" reasons for prosecuting him in the UK, citing the Human Rights Act.
Email Alerts
Register now to receive ComputerWeekly.com IT-related news, guides and more, delivered to your inbox.
By submitting your personal information, you agree to receive emails regarding relevant products and special offers from TechTarget and its partners. You also agree that your personal information may be transferred and processed in the United States, and that you have read and agree to the
Terms of Use
and the
Privacy Policy
.