Added critical data protection for SMBs
New technology aiming to solve small and medium size businesses' perennial problems with protecting business critical data
Secure network infrastructure company SonicWALL has launched what it claims will solve small and medium size businesses' (SMBs') perennial problems with protecting business critical data, applications and systems.

Download this free guide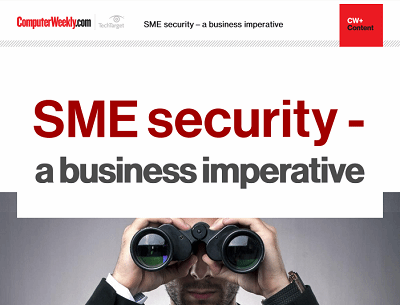 The secret to winning - SMEs and cyber security
50% of SMEs plan to spend less than £1000 on cyber defenses in the next year and only 42% of SMEs are concerned about ransomware. Anyone see a problem? Computer Weekly outlines some solutions to this growing naive trend.
By submitting your personal information, you agree that TechTarget and its partners may contact you regarding relevant content, products and special offers.
You also agree that your personal information may be transferred and processed in the United States, and that you have read and agree to the Terms of Use and the Privacy Policy.
The new Continuous Data Protection (CDP) system is claimed to be a complete, continual disk-based backup and recovery solution. Furthermore, SonicWALL believes that the solutions will be appreciated particularly at this time when SMBs are seeking enhanced productivity from their existing resources with decreasing budgets and increased regulatory requirements yet with a growing demand for the continuous availability of data.
The new system is designed to tap into a general move away from tape based storage. Given research from Microsoft suggesting that human error is to blame for as much as 33 – 40% percent of all data loss , SonicWALL argues that firms, especially SMBs, are realising that tape-based recovery solutions are no longer suitable in a fast moving business environment.
It says that as technology advances and tape-based storage solutions become outdated, SMBs will look for technologies that can offer speed of recovery, superior flexibility, and are easier to manage with greater reliability.
The CDP Series provides a number of disaster recovery options—such as offsite or site-to-site data backup, local archiving, or bare metal recovery—plus automatic transparent backups and simplified installation and management requirements. It maintains file availability in multiple historic versions so that servers and their applications—including Exchange, SQL and Active Directory database—are protected with multiple-point-in-time versions for disaster recovery.
In a move that will particularly interest SMBs who have embarked on mobilising their business, SonicWALL has added features intended to reduce data loss in laptops (or any server of desktop) by protecting data and databases as they are created or changed in real time, transparently and non-disruptively, to ensure user productivity and server uptime.
CDP features capacity up to 9 Tbytes at typical compression, GbE connectivity, RAID 5, and field-replaceable components. Low-touch administration features are designed to reduce significantly IT backup management overhead costs hence enabling SMBs to focus on more revenue-related IT projects.
E-Handbook

E-Handbook

E-Handbook
Read more on IT for small and medium-sized enterprises (SME)