Gamers given 'real life' virtual footballers
Fans of football computer games could soon be playing against more realistic opponents thanks to the winning entry in an artificial intelligence competition.
Fans of football computer games could soon be playing against more realistic opponents thanks to the winning entry in an artificial intelligence competition.

Download this free guide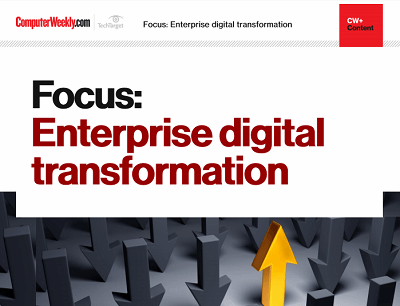 Are you digital to the transformation?
Digital transformation - the buzzword that we can't get away from. Enterprises need to accelerate their digital transformation journeys to avoid being left behind in an increasingly digital world. It's not an easy feat, but one that can be costly to get wrong. Join us as Computer Weekly takes a look at how businesses can stay on track through collaboration, innovation, and listening to user needs.
By submitting your personal information, you agree that TechTarget and its partners may contact you regarding relevant content, products and special offers.
You also agree that your personal information may be transferred and processed in the United States, and that you have read and agree to the Terms of Use and the Privacy Policy.
The De Montfort University Leicester team won the 2008 Machine Intelligence Competition, run by the British Computer Society (BCS), which was held at Cambridge University this week.
The competition took place during the British Computer Society's 28th SGAI International Conference on Artificial Intelligence (AI-2008).
The annual conference brings together experts in the field to discuss future developments in artificial intelligence.
Martin Rhodes and Simon Coupland's winning software uses programming inspired by Darwinian evolution to enhance the way virtual players in football games take free kicks.
The computer-controlled opponents in the system take free kicks in a more varied and organic way than those in existing games.
This means their actions are less predictable and makes them a more challenging opponent for the person playing against the computer.
Rhodes, who is a PhD student at De Montfort University, developed the system as part of his MSc in intelligent systems and robotics, which he completed last year.
He said, "I am very pleased that my MSc dissertation work has received this level of recognition. Taking the software from drawings on a piece of paper through to a final, award-winning product has been a brilliant experience."
Rhodes presented the system alongside Coupland who is his PhD supervisor and an expert in computational intelligence working in De Montfort's Centre for Computational Intelligence.
They were chosen as the winning team by the conference delegates, who voted in a secret ballot following live demonstrations by each of the finalists. Their prize was £1,000.
Coupland said, "In video games, scenarios tend to be scripted, rule-based, deterministic systems. This means if you get the same situation twice, the exact same things will happen in the exact same sequence.
"Any hardcore video gamer will tell you this is a significant limitation of current games. This new approach gives a diversity of good computer game play and means the computer agent players are unpredictable."
The system uses a computer model of Darwinian evolution which chooses the best options from the numerous possibilities for a shot on goal and can also decide where to place defenders and the keeper for a free kick situation.
The team believes the system has a lot of potential for improving future football computer games releases and could easily be integrated into gaming technology to help improve the experience for gamers in the future.
Read more on Operating systems software