Nationwide banks on SAP for business transformation
Nationwide Building Society has chosen the latest version of SAP's banking platform as the technology core of its £300m business transformation project.
Nationwide Building Society has chosen the latest version of SAP's banking platform as the technology core of its £300m business transformation project.

Download this free guide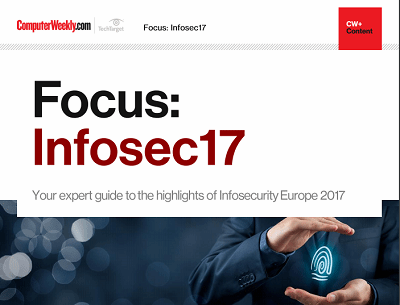 From forensic cyber to encryption: InfoSec17
Security technologist Bruce Schneier's insights and warnings around the regulation of IoT security and forensic cyber psychologist Mary Aiken's comments around the tensions between encryption and state security were the top highlights of the keynote presentations at Infosecurity Europe 2017 in London.
By submitting your personal information, you agree that TechTarget and its partners may contact you regarding relevant content, products and special offers.
You also agree that your personal information may be transferred and processed in the United States, and that you have read and agree to the Terms of Use and the Privacy Policy.
The company plans to move away from building its own core banking, savings and mortgage products on legacy Unisys and Fujitsu mainframes to a service-oriented architecture (SOA).
Darin Brumby, Nationwide's divisional director for business systems transformation, said the five-year project, dubbed Voyager, was driven by the need for greater business agility.
The building society's current complex technology environment would be unable to support growth plans, said Brumby. The new system would enable it to react to changing market conditions, increased competition and changing regulatory requirements, he added.
"We are adopting SOA in the SAP model to be able to launch products very quickly as we have seen others, like Deutsche Postbank, use the technology to reduce lead times from months to weeks, and from weeks to days. We are expecting a significant return investment."
Brumby said that although there were risks in a transformation programme of this size, particularly as this was the first time this version of the SAP software was being implemented in the UK, there was also a first-mover advantage.
"We have good plans to mitigate the risks and have done very hard due diligence on the software, making sure it is fit for purpose and that we know where the gaps are. We recognise we are the first, but we are mitigating that by upskilling internally and we have top-level relationships with SAP to get the job done."
Brumby said Voyager was a timely response to the challenges all major banks would face sooner or later.
"This is a good time to be doing this for us. It is not a knee-jerk reaction, but an activity that has been planned for the past two years."
He said Voyager was "not predicated on headcount reduction", but there would be some redeployment as the building society reshaped itself to deliver new products.
The first phase of Voyager, due for completion in the fourth quarter of 2008, will cost about £166m, with £100m covering the software and hardware costs of setting up Nationwide's new banking platform.
The second phase will see the release of new savings products and teller systems for branches, and the third phase will focus on mortgage products.
The three phases will run concurrently at times, and the whole project is scheduled for completion by 2012.
Nationwide has not yet made a final decision on its new hardware platform, but Brumby said it was considering IBM's P-series and Z-series hardware.
He said the building society had evaluated several banking packages from big software suppliers such as I-Flex, Fidelity, InfoSys and Temenos, but had chosen SAP for Banking because it was "the best functionality fit" and a mature product.
Read more on IT risk management