Technology consumers ready to jump ship over poor service
Most customers are ready to defect from their existing technology suppliers because of poor customer service.
Most customers are ready to defect from their existing technology suppliers because of poor customer service.
Many consumer technology companies are alienating customers with "average" customer service and risk losing three-quarters (73%) of them to competitors, according to research from consultant Accenture.

Download this free guide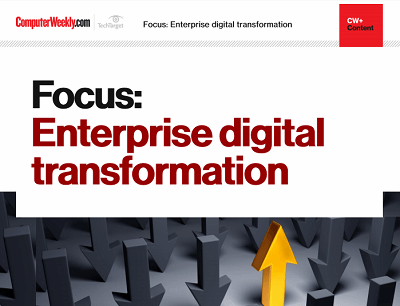 Are you digital to the transformation?
Digital transformation - the buzzword that we can't get away from. Enterprises need to accelerate their digital transformation journeys to avoid being left behind in an increasingly digital world. It's not an easy feat, but one that can be costly to get wrong. Join us as Computer Weekly takes a look at how businesses can stay on track through collaboration, innovation, and listening to user needs.
By submitting your personal information, you agree that TechTarget and its partners may contact you regarding relevant content, products and special offers.
You also agree that your personal information may be transferred and processed in the United States, and that you have read and agree to the Terms of Use and the Privacy Policy.
A survey of 1,200 technology consumers worldwide found the widespread dissatisfaction.
"Too many of these companies fail to realise the dire long-term repercussions of not making the proper investments in customer service, including missing out on millions of dollars in business opportunities," said Brett Anderson, managing director for customer relationship management in Accenture's communications and high tech practice.
"This is a wake-up call that customer service should no longer be relegated to a mere instrument for extracting costs out of the business," said Anderson.
The research found that more than three-quarters (81%) of customers who rated their service satisfaction as "below average" said they will purchase from a different supplier next time.
Accenture also questioned 35 technology suppliers at companies generating at least £526m in sales about their customer service.
Many companies perceive themselves to be providing much better service than their customers say they are receiving.
Although three-quarters (75%) of technology company executives said their companies' provide "above average" customer care, more than half (58%) of consumers rated their satisfaction with customer service as "average" or "below average".

"With so many technology products on a natural path to commoditisation, technology companies need to use customer service to differentiate themselves from competitors," Anderson said.
The best ways to renegotiate your outsourcing deal >>
Too many SLAs don't measure up >>
Big business is unimpressed with data services >>
IT downtime the main irritant for office workers >>
IT professionals are 'more miserable than accountants' >>
Comment on this article: e-mail computer.weekly@rbi.co.uk

Read more on Operating systems software