Roll-out of Airwave emergency net sparks Tube safety questions
The London Assembly has raised concerns over the readiness of businesses and the emergency services to cope with another terrorist attack on the London Underground.
The London Assembly has raised concerns over the readiness of businesses and the emergency services to cope with another terrorist attack on the London Underground.

Download this free guide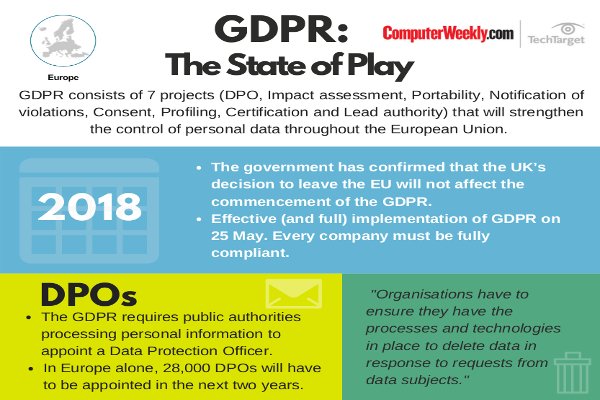 Infographic: GDPR - The State of Play
Get the latest information on how GDPR is going to affect your business and how to avoid any unwanted fines with this simple infographic.
By submitting your personal information, you agree that TechTarget and its partners may contact you regarding relevant content, products and special offers.
You also agree that your personal information may be transferred and processed in the United States, and that you have read and agree to the Terms of Use and the Privacy Policy.
A report from the assembly, due out this spring, is expected to raise questions about the ability of the new Airwave emergency services radio system to provide adequate communications in the event of an attack on the Tube network.
Richard Barnes, chair of the London Assembly's 7th of July Review Committee, said the group was concerned that Airwave may not provide 100% coverage in tunnels and stations and its signals may in some cases be blocked by buildings.
"We will certainly be expressing concern over the Airwave radios," Barnes said. "Airwave is getting rolled out, but it is not the 100% coverage that people thought. There are gaps in the services."
O2 Airwave signed a £115m contract to link the Airwave radio network to London Underground's digital Connect radio system in January. It will give UK police forces Airwave coverage at all 125 belowground Tube stations.
Barnes said the assembly was concerned that there would be gaps in the coverage of Airwave in the underground system. There are also concerns that Airwave signals may be inaccessible in some buildings, including police stations.
The problems could be solved by investing in more booster stations, said Barnes, but the government needed to be upfront about the gaps in the system and decide openly whether it was prepared to accept a less reliable system for the sake of financial savings, he said.
"They have to make up their minds, and they have to be upfront about whether they will accept a weaker system for financial reasons. It is the sort of clarity that people are entitled to," he said.
Patrick Mercer, former opposition spokesman for homeland security, also expressed concerns over the implementation of Airwave.
"This is a grave area of concern that the very expensive Airwave system does not work in tunnels and enclosed spaces. It can be made to work relatively simply and relatively cheaply, but it is extremely disappointing that there is going to be no instant surface-to-tunnel communication in the Tube until at least 2008," he said.
Rupert Cazalet, head of stakeholder relations for 02 Airwave, said that the contract with London Underground would provide emergency services with radio access underground in 2008.
"The Airwave system is piggy backing on the Connect system, so if there is coverage on the Connect system, there will be coverage on the Airwave system," he said.
"We are aware there have been reports of insufficient coverage in buildings. That is something that affects all radio communications. We are working with the Metropolitan Police to identify what can be done to improve coverage in buildings. We are looking to maintain officer and public safety."
Related article: London Underground links to Airwave
Comment on this article: computer.weekly@rbi.co.uk
Read more on IT legislation and regulation