Siebel banks on hosted, vertical apps
Siebel Systems is to offer increasingly robust hosted customer relationship management applications as well as hybrid...
Siebel Systems is to offer increasingly robust hosted customer relationship management applications as well as hybrid implementations of on-premise and on-demand software to win market share in the business applications market.

Download this free guide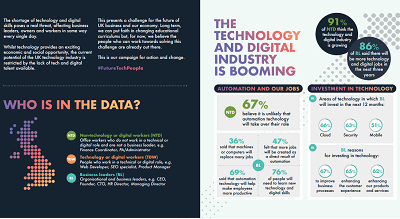 Infographic: Future-proofing UK technology
The current potential of the UK technology industry is restricted by the lack of tech and digital talent available. Read through this challenge for the future of UK business and our economy.
By submitting your personal information, you agree that TechTarget and its partners may contact you regarding relevant content, products and special offers.
You also agree that your personal information may be transferred and processed in the United States, and that you have read and agree to the Terms of Use and the Privacy Policy.
The company has seen increasing competition as major enterprise resource planning companies such as SAP and Oracle branched out into its core market, enterprise CRM, over the past few years. Now Siebel is banking on capturing a large part of the market for hosted CRM applications.
"We see hosted CRM applications as an increasing part of our business and our goal is to capture 50% of that market," said executive vice president David Schmaier, although he declined to give a timeframe for the goal.
Siebel now has about 1,400 hosted CRM customers after selling its hosted software for only two quarters, compared with 4,000 customers for its enterprise on-premise version.
Not all of the features of the enterprise version of Siebel CRM are available via the hosted version, he said. "That's by design. We can turn on the features whenever we want to ... as the demand arises. This is classic new-market opportunity strategy."
Siebel is also counting on industry-specific versions of its CRM software to strengthen its hand against hosted-software competitors that have been in the market for several years. Earlier this month, Siebel announced that by the end of the year it would offer hosted versions of eight of the 23 vertical-market versions of its software.
The Siebel CRM OnDemand - Industry Editions, to be available by the end of the third quarter, include insurance; high tech; automotive; and communications and media packages. Editions for financial services, life sciences, manufacturing and consumer goods will follow by the end of the year.
Siebel's ability to provide both on-premise and hosted versions of its applications also will help the company meet a growing trend on the part of users for adoption of hybrid deployments.
Marc Ferranti writes for IDG News Service