The world is heading for a cyber-equivalent of 2009's swine flu epidemic unless there is greater international co-operation and public education to avert such a crisis, says an IT security expert.
"The UK government's National Security Strategy is right to identify cyber-attacks as a major threat to national security. Cyber terrorism is on the rise and neither national governments nor the general public are fully prepared to deal with the threat," said Eddy Willems, security evangelist at security firm GData.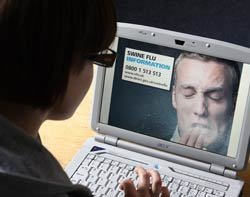 When swine flu became a global threat in 2009, US President Barack Obama made a televised address to tell people to wash their hands, cover their mouths when they coughed and to keep children at home if they are sick, he said.
Leaders like prime minister David Cameron, said Willems, need to educate people in a similar practical way about preventing the spread of computer viruses to reduce the fall-out from future cyber-attacks.
"As with swine flu the public have an important role to play as well. Companies and individuals need to make sure their networks and computers are protected and that they allow their antivirus software to be frequently updated. Members of the public need to become accustomed to exercising care when dealing with e-mails, caution when using social networks and restraint in using devices like USB sticks," he said.
International co-operation is also needed, said Willems, because with greater international co-ordination new viruses can be analysed quickly, enabling software companies to develop fixes and minimise the extent of any damage caused.
Current levels of co-operation are not sufficient to counter a widespread threat, as the response to the recent Stuxnet attack has shown, he said.
"Unless we act in unison now we could face a malware epidemic in the next couple of years," said Willems.
Email Alerts
Register now to receive ComputerWeekly.com IT-related news, guides and more, delivered to your inbox.
By submitting your personal information, you agree to receive emails regarding relevant products and special offers from TechTarget and its partners. You also agree that your personal information may be transferred and processed in the United States, and that you have read and agree to the
Terms of Use
and the
Privacy Policy
.