A legally binding carbon-trading scheme which came into force in April this year could be a "game changer" for energy-hungry businesses.
The Carbon Reduction Commitment Energy Efficiency Scheme (CRC) could have major implications for businesses with large datacentres, a roundtable panel of IT and environmental experts heard.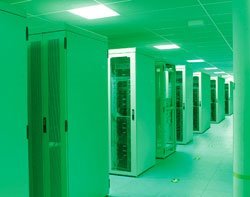 The CRC will put pressure on companies to use IT and other technologies to reduce their carbon emissions, the experts concluded.
"CRC is going to be a game-changer. It totally transforms the landscape for thousands of organisations," said Harry Morrison, general manager of the Carbon Trust Standard Company.
The CRC, which will affect some 5,000 big energy users in the UK, is part of the government's commitment to reduce CO2 emissions by 80% by 2020.
It will require big businesses to buy carbon allowances each year, which they will be able to buy and sell, according to their carbon output.
But most businesses have yet to get to grips with CRC, said Jonathan Tapp, management consultant at Cap Gemini.
"There are a lot of corporate social responsibility initiatives going on and IT initiatives such as managed print services, consolidation, virtualisation, etc, but if you ask these companies if they are doing it for CRC they probably aren't and they probably haven't even heard of it," he said.
---
Sign up to Computer Weekly to download an article on the full roundtable discussion.
Going 'green' should be high on every organisation's agenda, whether it is by improving IT operations and infrastructure; lowering operating expenses; reducing or avoiding capital expenditures; aligning with corporate green initiatives; or by complying with new, complex regulations such as the Carbon Reduction Commitment Energy Efficiency legislation which came into force in April 2010.
For many organisations it's not just about the basic aspects of switching off lights and computer screens, it's about viewing 'green' as a game-changer - from the enterprise carbon and energy management systems, to the power management solutions, to renewables, to creating, developing and maintaining a corporate sustainability culture, to the 'cleantech' revolution.
Participants included the BCS Chartered Institute for IT, Digital Surface Research, Henley Business School, Microsoft, Cambium, Doxense, Gillamor Stephens, CIPFA, 10:10, Reading Borough Council, IBM, ecoXchange, The Carbon Trust Standard Company, Capgemini, and the Crichton Carbon Centre.
Click here to download full roundtable discussion.
---
Tony O'Donnel, partner at environmental consultancy Cambium, said that many businesses were still confused about the impact of CRC.
"The CRC provides a very powerful and scary medium for organisations to start taking the issue of sustainability more seriously. It will act as a channel for the adoption of technologies irrespective of whether they are IT or 'cleantech' innovation," he said.
But businesses that start using technology to measure and control their carbon reduction programmes will be at a competitive advantage, the panel heard.
"You need to focus on getting the monitoring systems right at the very beginning, and if they then find that their carbon emissions are all over the place, it's going to cause real problems in terms of an organisations carbon credits," said Ben Burfoot, sustainability manager for Reading Borough Council.
Microsoft, for example, has developed software to help it manage its energy costs internally. It plans to offer the technology to external customers, once it has proved it internally.
Email Alerts
Register now to receive ComputerWeekly.com IT-related news, guides and more, delivered to your inbox.
By submitting your personal information, you agree to receive emails regarding relevant products and special offers from TechTarget and its partners. You also agree that your personal information may be transferred and processed in the United States, and that you have read and agree to the
Terms of Use
and the
Privacy Policy
.