Nokia's latest full qwerty phone, the C3, will be available exclusively from the Nokia UK online shop from 18 June for £109, sim-free.
Vodafone will have exclusive sales from 22 June for one month; O2, The Carphone Warehouse and Phones4U will stock the phone in August.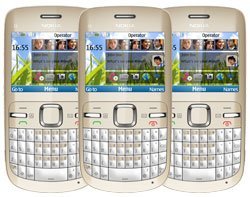 The phone comes in hot pink, slate grey and golden white and is aimed at social networkers. It provides instant access to Facebook and Twitter from the home screen, and one-click access to e-mail, chat, calendar and music. The phone also supports Nokia messaging, plus dedicated widgets, GPRS, Wi-Fi and a two-megapixel camera.