Europe's response to the volcanic ash cloud that has grounded thousands of European flights would have been better managed if air traffic technology between countries was more integrated.
Civil aviation expert Philip Butterworth-Hayes says more integrated IT - as planned under the European Single Sky project - would enable countries and airlines to have access to the same information, improving decision making and make it easier to coordinate the response to the cloud.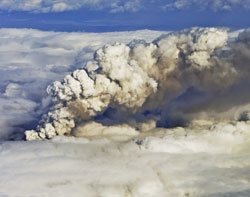 He said, "Better integrated technology would make the ash cloud easier to cope with. If you had a very clear satellite-based picture which linked into the ground based databases, you could see where traffic is across Europe.
"If everybody had the single information framework then they could all make decisions based on real facts. At the moment there is no unified information loop in which everybody can operate."
Computer models used to track the ash and predict where it will go rely on two types of information - wind direction and the number of eruptions from the volcano. It is the Met Office's job to predict and report what the ash cloud is doing, and air traffic controllers must then decided how to respond based on this information.
But the UK's air traffic controller NATS said collaborating with the Met Office and other air traffic control centres in Europe had not been a problem. "We have not experienced problems with information sharing. This is more about prediction of where the ash cloud will be and subsequently the direction of where it actually is."
The European Commission's Single European Sky project aims to harmonise air traffic control on the continent by linking up systems and reducing the number of air traffic control centres from 35 to seven.
But while the standards for the IT systems exist, there are big hurdles to integrating them. Butterworth-Hayes says each country has different ideas about the best technology to use, and many want to promote home-grown technology suppliers.
Only Scandinavian countries have managed to complete the work and link up their air traffic management systems, with others yet to work through the political and technical issues.
SESAR is the technical part of the Single Sky project, and is developing a set of standards for air traffic management IT systems. Butterworth-Hayes says these are likely to be in place by 2020 but there are a lot of complexities to overcome in the meantime.
"The technologies are going to be extremely advanced," he said. "It is going to be extremely difficult to regulate them. For example, who owns the data coming from a satellite and who is responsible for it? It is a very complex issue when you are dealing with global navigation systems."
Email Alerts
Register now to receive ComputerWeekly.com IT-related news, guides and more, delivered to your inbox.
By submitting your personal information, you agree to receive emails regarding relevant products and special offers from TechTarget and its partners. You also agree that your personal information may be transferred and processed in the United States, and that you have read and agree to the
Terms of Use
and the
Privacy Policy
.