The Conservative Party says it will strengthen the role of the government chief information officer (CIO) to have more control over procurement, freeze new IT spending, and consider using the television licence fee to fund the roll out of broadband.
The Conservative manifesto emphasises putting government data online - including details of all contracts over £25,000. And ID cards and the Contactpoint child database will be scrapped.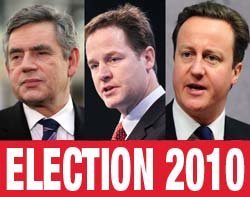 The party says it will put more focus on science, technology, engineering and maths in schools to help make the UK "the leading high-tech exporter in Europe".
Other technology related parts of the Conservative Manifesto, include:
Former government advisers Peter Gershon and Martin Read advising the party that £12bn of savings across departments is possible without affecting frontline services. This will be over and above planned savings by Labour. To achieve this the party will freeze new IT spend and start immediate negotiations to achieve reductions from current major suppliers.
Plans to open up government procurement to smaller businesses by putting tender documents worth more than £10,000 on the Supply2Gov website, creating a "level playing field for open source IT" in procurement, and breaking up IT projects into smaller components so small businesses can bid for the work.
Plans to make Britain "a European hub for high-tech, digital and creative industries". The Tories say they will scrap the 50p phone tax and instead require BT and other infrastructure providers "to allow the use of their assets to deliver superfast broadband across the country". The manifesto says, "If necessary, we will consider using the part of the licence fee that is supporting the digital switchover to fund broadband in areas that the market alone will not reach."
An attempt to tackle wasteful government procurement by "strengthening the role of the chief information officer to get a grip on government ICT projects". It will also introduce a series of changes to IT procurement to deliver better value for money, and publish government contracts worth £25,000 or more online.
A change of policy on the DNA database, with plans to "legislate to make sure that our DNA database is used primarily to store information about those who are guilty of committing crimes rather than those who are innocent". All existing prisoners will have their DNA collected under a Conservative government, and anyone wrongly accused of a crime will have their DNA record withdrawn automatically.
Email Alerts
Register now to receive ComputerWeekly.com IT-related news, guides and more, delivered to your inbox.
By submitting your personal information, you agree to receive emails regarding relevant products and special offers from TechTarget and its partners. You also agree that your personal information may be transferred and processed in the United States, and that you have read and agree to the
Terms of Use
and the
Privacy Policy
.