Vtesse Networks is to test the economic viability of providing superfast fixed wireless broadband to the UK's broadband "not-spots" by installing a network in rural Wiltshire. It will use the results to press its case for government money to roll out high-speed broadband to areas that do not yet have broadband.
According to Vtesse, about 25% of the UK population lives in the "final third" of the country that is unlikely to get broadband access to the internet without state aid.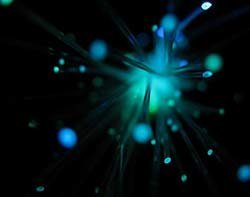 The first community to be served will be Chapel Plaister, a hamlet with about 100 houses and 200 residents. Vtesse may add others as the trial progresses.
The Wiltshire trial complements a joint Vtesse/Virgin Media fibre-based project in Cornwall to deliver ultrafast broadband services to residents in Upper Pill and Hatt with fibre-to-the-cabinet and fibre-to-the-home technologies (collectively called FTTx).
The government has said that about one-third of the UK population lives too far from a BT exchange or Virgin Media cable to get more than 2mbps internet access economically. Treasury minister Stephen Timms told a parliamentary committee recently that the government promised to deliver "a line capable of supporting 2mbps" to every home in the UK.
Vtesse CEO Aidan Paul said it was possible to better this, provided the government relaxed regulations that tax fibre, radio masts and antennas, and prevent third-party network operators from using BT and Virgin Media infrastructure where they have declined to extend their networks.
Rural testing
The Hatt and Wiltshire trials will test wireless technologies that could bring superfast broadband services to communities smaller than the 800+ residents BT needs for an economically viable service, Paul said.
"The trials, which start in early 2010, will deliver a wireless broadband experience that will significantly exceed the government's 2012 universal service commitment of 2mbps," Paul said. "This will let residents of Chapel Plaister enjoy high-quality streaming video services such as YouTube HD, iPlayer and Sky Player, as well extend the reach of 3G mobile services for devices such as iPhones and Blackberrys."
Vtesse will use the results from the trails to press its applications for taxpayers' money to fulfil the government's 2mbps universal service commitment and roll-out of so-called next-generation access networks.
Paul said the government's Digital Britain report had spelled out the problems of getting fast broadband to low population density areas. "We aim to explore the regulatory changes and government support required to bring equitable and competitive levels of fast broadband service to rural settlements such as Chapel Plaister," he said.
Paul added that final third communities were not restricted to rural areas. "There are urban broadband 'not-spots' and 'slow-spots'. Anyone more than 3km from a BT cabinet or outside current cable TV footprints is in the final third. They are unlikely to get even the basic service promised by the universal service commitment unless something is done to address the commercial and regulatory issues."
---
Photo courtesy of flakeparadigm/flickr
Email Alerts
Register now to receive ComputerWeekly.com IT-related news, guides and more, delivered to your inbox.
By submitting your personal information, you agree to receive emails regarding relevant products and special offers from TechTarget and its partners. You also agree that your personal information may be transferred and processed in the United States, and that you have read and agree to the
Terms of Use
and the
Privacy Policy
.