Businesses will use private clouds for now, says Gartner
Businesses will spend more money on developing private cloud...
Businesses will spend more money on developing private cloud computing initiatives than they will spend with cloud computing suppliers, according to Gartner.

Download this free guide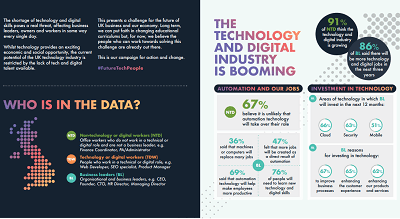 Infographic: Future-proofing UK technology
The current potential of the UK technology industry is restricted by the lack of tech and digital talent available. Read through this challenge for the future of UK business and our economy.
By submitting your personal information, you agree that TechTarget and its partners may contact you regarding relevant content, products and special offers.
You also agree that your personal information may be transferred and processed in the United States, and that you have read and agree to the Terms of Use and the Privacy Policy.
The analyst firm said companies will keep IT resources internal through private clouds and use this as a stepping stone to the public cloud, which they will use in the future.
Cloud computing enables businesses to access applications via the internet. When applications are in the public cloud they are managed by suppliers and businesses pay subscriptions or on a usage basis. Private clouds are internal and are managed and controlled by the IT department.
"The hype of cloud computing is that existing IT architectures and processes can be simply replaced by the cloud," said Tom Bittman, vice-president and distinguished analyst at Gartner. "The reality of the future IT organisation, however, is somewhat a combination. Larger organisations will continue to have an IT organisation that manages and deploys IT resources internally, some of which will be private clouds.
"The investments businesses make now in private clouds will prepare them for the future, when public cloud offerings are appropriate.
"Many of the investments in private cloud computing will prepare the enterprise for public cloud computing. These investments are not just technology changes - they are also process, cultural and business interface changes. Making these changes sooner rather than later will help enterprises to take better cloud sourcing decisions and potentially make for an easier transition to public cloud computing."
Gartner's cloud computing action plan:
Things to do now
• Experiment with the cloud and discover where it is already taking place in the company
• Lead a cross-organisation cloud initiative
Things to do in the next 90 days
• Use virtualisation as a catalyst to drive IT modernisation
• Portfolio your services
• Develop strategies for services and private cloud
• Identify new opportunities for the business that are emerging due to cloud computing
Things to do in the next 12 months
• Develop an overall cloud computing strategy
• Build a dynamic sourcing organisation.
Read more on Managing IT and business issues